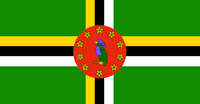 Dominica is an island located in the middle of the Lesser Antilles, and the northernmost of the Windward Islands. The island has a population of around 70,000 inhabitants in an area of 750 km2 (290 mi2).
Roseau is the island's capital, and Porthsmouth is the other main town.
The island is so-called because Christopher Columbus discovered it on a Sunday--November 3rd, 1493.
The name should not be confused with that of the Dominican Republic in the Greater Antilles.
History
Dominica was settled by the Caribs and Arawaks long before Columbus discovered it in 1493. In the following years, a wave of European settlers sent the Caribs out to the island's northeast.
In 1805, La Grange's attack on Roseau made sure the island stayed in the hands of the British Empire. Such uninterrupted rule came to pass until 1978, when the island became independent.
Parishes
The island is divided into ten parishes:
Politics
Dominica has three main political parties: United Workers Party, the Freedom Party and the currently-ruling Labour Party.
Roosevelt Skerrit is the island's current Prime Minister.
Demographics
Nearly 70,000 people, mainly of Negro descent, live in Dominica. Some 3,000 Caribs live in the island's northeast in a specially-created reserve.
English is the official language; Creole is spoken among locals from time to time.
External links
Ad blocker interference detected!
Wikia is a free-to-use site that makes money from advertising. We have a modified experience for viewers using ad blockers

Wikia is not accessible if you've made further modifications. Remove the custom ad blocker rule(s) and the page will load as expected.