Sendo a capital do Império localizada nas Ilhas Britânicas, seus vastos domínios se extendem por todo o globo.
Monarquia absolutista capitalista, trata-se de uma hiperpotência imperial, extremamente avançada e poderosa militarmente, dona da força militar mais numerosa do planeta. Seu povo é muito frio, objetivo e extremamente leal à Pátria, detentores de uma cultura nacional forte e de tradições firmes. Sua economia se basea principalmente em tecnologia, armamento, indústria pesada e commodities coloniais.
Atualmente é controlado por um partido socialista e é líder em venda de cigarros da Máfia Mosca.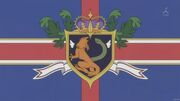 ---
Hino Imperial
Truth and hope in our Fatherland! And death to every foe! Our soldiers shall not pause to rest We vow our loyalty
Old traditions they will abide Arise young heroes! Our past inspires noble deeds All Hail Britannia!
Immortal beacon shows the way Step forth, seek glory! Hoist your swords high into the clouds Hail Britannia!
Our Emperor stands astride this world He'll vanquish every foe! His truth and justice shine so bright All hail his brilliant light!
Never will he be overthrown Like mountains and sea His bloodline immortal and pure All Hail Britannia!
So let his wisdom guide our way Go forth and seek glory Hoist your swords high into the clouds Hail Britannia!
Ad blocker interference detected!
Wikia is a free-to-use site that makes money from advertising. We have a modified experience for viewers using ad blockers

Wikia is not accessible if you've made further modifications. Remove the custom ad blocker rule(s) and the page will load as expected.