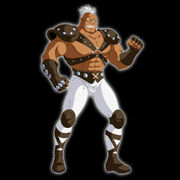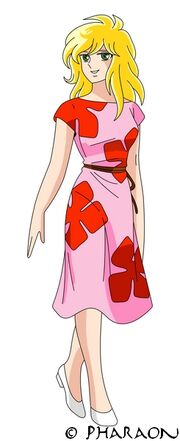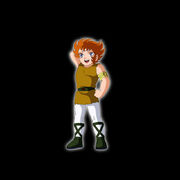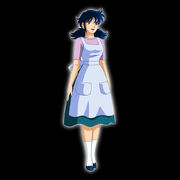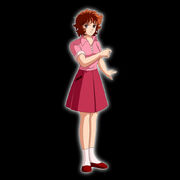 *
Cassios
Age: 15:Birthday: December 14:Blood Type: O:Birth Place: Greece:Training Place: Greece:Seiyuu: Banjo Ginga, Matt Culpepper (English)
Apprentice and Saint-in-training under Ophiuchus Shaina. During the fight for the Pegasus Cloth, Seiya cut off one of his ears, and he hated Seiya for it ever since. Cassios has great respect and affection toward Shaina; however, he realizes that Shaina has affection toward Seiya. Motivated by this, he takes Seiya's place and dies during the fight with Leo Aiolia in order to wake Aiolia from the control of Saga's Demon's Emperor Fist. In the anime, he was also the younger brother of Docrates.
Age: 13::Birthday: August 25::Birth Place: A small local island near the Death Queen Island.::Seiyuu: Chisato Nakajima
She was sold as a work slave to an abusive local farmer for only three bags of grain. When Ikki first encountered her, he mistook her for Shun, because she and Shun had the same facial features with the only differences being hair color and gender. She was killed by Guilty, Ikki's master, in order to provoke Ikki into drawing power from hatred. In the anime, Esmeralda was Guilty's daughter.
Age: 8:::Birthday: April 1:::Birth Place: Tibet, China:::Training Place: Tibet (China), Jamir:::Techniques: Telekinesis, ability to sense invisible energy forces, and ability to see invisible crack marks on Saint Cloths.:::Seiyuu: Hiroko Emori , Karen Hatch (English)
Apprentice under Aries Mu. Like his master and grandmaster, Kiki also bears the two dots on his forehead and is the youngest of the people of the continent of Mu. He never fights, but can use powerful telekinesis against normal humans. In the Poseidon chapter, he was given the duty of bringing the Libra Cloth to all the Bronze Saints.
Age: 13::::Birthday: April 15::::Birth Place: Japan::::Seiyu: Naoko Watanabe , Sasha Paysinger (English)
Seiya's best friend, she works at the orphanage where Seiya and his sister Seika lived before Seiya was taken away. Miho is in love with Seiya to some degree, and in a sense represents the point of view of the normal people who are mere witnesses to the struggle among the Gods.
Seiyu: Kouhei Miyauchi , Marty Fleck (English)
Foster-grandfather of Saori who adopted her and took her to Japan after finding a dying Sagittarius Aiolos in Sanctuary. In the manga, it was revealed that he was actually the birth father of all the orphans he sent around the world to be trained as Saints. In the anime, he merely took the children from various orphanages (sometimes even kidnapping them, as shown in Seiya's case), and sent them for their training. Just before he died, he told Saori everything regarding the encounter with Aiolos in Sanctuary.
Seiyu: Yuriko Yamamoto, Satsuki Yukino OVA
Seiya's older sister, who he has not seen in years. After Seiya was taken away, she wandered the world looking for him. It has long been implied that Marin (Seiya's mentor) could be Seika, and some characters, including Seiya, have thought it might be true. Marin and Seika even have the same physical characteristics: same age, same birthdate, same height, same birthplace. Also, Marin has a brother she lost and was looking for. But Seika appeared as an independent character in the Hades chapter, completely amnesiac, after having followed Seiya all the way to Greece alone. It was Seika's voice that, more than any other, urged Seiya on in his fight against Thanatos. In the last Saint Seiya movie (Heaven chapter:Overture), it was revealed that Marin is not Seika, because her brother is the character Icarus (Toma).
Seiyuu: Yumiko Shibata, Eriko Sato OVA, Ai Bandō Elysion OVA, Kimberly Prause (English)
Shunrei was an abandoned orphan found by Dohko in Rozan (China). She cares deeply for Shiryū, and her prayers for Shiryu's safety in battle often help him through his toughest fights, particularly against Deathmask, as well as against the Specter trio of Sylphid, Gordon and Queen.
Shunrei's name in kanji is (春麗) which is also the same kanji for the name of Chun Li in the Street Fighter series.
Seiyu: Yukitoshi Hori, Ron Howald (English)
Saori's butler, bodyguard and right-hand man. He was in charge of overseeing the orphans who were to be sent out all over the world to train and become Bronze Saints, and since he was extremely severe and at times downright abusive, most of them are resentful towards him. He always tries to be strong and protect Saori, but even the Sanctuary soldiers can defeat him. (Not without struggle, however, as he offered considerable resistance for an outnumbered man). He starts as a rather daunting and abusive retainer for the future Saints, but later develops as a man who is honor-bound to preotect Saori, and ultimately is the series' comic relief.
Ad blocker interference detected!
Wikia is a free-to-use site that makes money from advertising. We have a modified experience for viewers using ad blockers

Wikia is not accessible if you've made further modifications. Remove the custom ad blocker rule(s) and the page will load as expected.