Ad blocker interference detected!
Wikia is a free-to-use site that makes money from advertising. We have a modified experience for viewers using ad blockers

Wikia is not accessible if you've made further modifications. Remove the custom ad blocker rule(s) and the page will load as expected.
Sakura
Sakura Haruno por Masashi Kishimoto
| | |
| --- | --- |
| Nome | Haruno Sakura |
| - | 春野サクラ |
Fisiologia
Altura
part I - 150cm

part II - 165cm

Peso
35kg
Cabelos
Rosa
Olhos
Verdes
Dados
Idade
part I: 12

part II: 15/16 anos

Data de Nascimento
28 de Março
Sexo
Feminino
Nível
Chuunin
País de Origem
País do Fogo(Konoha)
Tipo Sanguíneo
O
Registro Ninja
012601
Ama...
Sasuke!♥
Odeia...
Naruto...¬¬
Primeira Aparição
Episódio 1:

"Uzumaki Naruto Chegando!"

Mangá 3:

"Uchiha Sasuke"

Dublador
JAP: Chie Nakamura

USA: Kate Higgins

BR: Tatiane Keplmair
Sakura Haruno (Japonês:春野サクラ) é uma das personagens principais do anime e mangá japonês, Naruto e Naruto:Shippuden
Sakura significa "flor de cerejeira" em japonês, que representam a beleza e a vida curta (no Japão, esse tipo de flor é associado aos samurais)
Haruno quer dizer "campo da primavera", que combina bem com o nome Sakura.
Falas Lembradas:
---
"Coragem."
---
"É o amor da juventude!"
---
"Meu nome é Haruno Sakura e eu gosto de... bem, a pessoa que gosto é... hum, devo dizer um sonho para o futuro? O meu hobbie é... e o que eu não gosto? Naruto!"
---
"Naruto idiota!"
Familiares
Pai: Desconhecido
Mãe: Desconhecida
Avô: Desconhecido
Avó: Desconhecida
Irmãos: Não tem
Tios: Desconhecidos
Primos: Desconhecidos
Filhos: Não tem
Netos: Não tem
Biografia
Sakura e Ino, uma Amizade entre Rivais
História
Saga Original
Graduação
====Teste de Sobrevivência no País das ondas===eles foram pro pais das ondas proteger o constrotor da ponte condo o zabusa aparece e os enpede zabuza e um demonio da nevoa oculta.zabusa luta com kakaschi.sakura protege o construtor da ponte.sasuke luta com raku.raku e um dos seguedores de zabusa!
Retorno de Uchiha e Procura por Tsunade
Adeus Sasuke
Fillers
6ª Temporada
7ª Temporada
8ª Temporada
9ª Temporada
Shippuden
Técnicas
Técnica dos Clones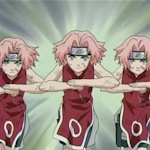 Nome Original:

分身の術

Nível: Rank E - Suplementar
Primeira Aparição: "O Desabrochar de Sakura! Mostre a sua Determinação!"
Informações:
Técnica da Palma Mística

Nome Original:

掌仙術

Nível: Rank A - Suplementar - Curto Alcance (0-5 metros)
Primeira Aparição:
Informações:
Técnica da Nevasca de Sakura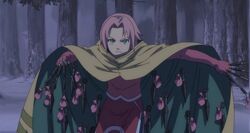 Nome Original:

桜吹雪の術 ou さくら吹雪の術

Nível: Desconhecido
Primeira Aparição: "Naruto: O Filme"
Informações:
---
Equipes
---
---
Time Kakashi
---
---