Sakura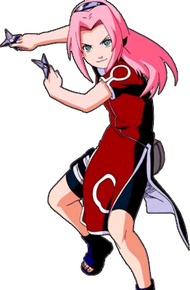 Sakura Haruno por Masashi Kishimoto
| | |
| --- | --- |
| Nome | Haruno Sakura |
| - | 春野サクラ |
Fisiologia
Altura
part I - 150cm

part II - 165cm

Peso
35kg
Cabelos
Rosa
Olhos
Verdes
Dados
Idade
part I: 12

part II: 15/16 anos

Data de Nascimento
28 de Março
Sexo
Feminino
Nível
Chuunin
País de Origem
País do Fogo(Konoha)
Tipo Sanguíneo
O
Registro Ninja
012601
Ama...
Sasuke!♥
Odeia...
Naruto...¬¬
Primeira Aparição
Episódio 1:

"Uzumaki Naruto Chegando!"

Mangá 3:

"Uchiha Sasuke"

Dublador
JAP: Chie Nakamura

USA: Kate Higgins

BR: Tatiane Keplmair
Sakura Haruno (Japonês:春野サクラ) é uma das personagens principais do anime e mangá japonês, Naruto e Naruto:Shippuden
Sakura significa "flor de cerejeira" em japonês, que representam a beleza e a vida curta (no Japão, esse tipo de flor é associado aos samurais)
Haruno quer dizer "campo da primavera", que combina bem com o nome Sakura.
Falas Lembradas:
---
"Coragem."
---
"É o amor da juventude!"
---
"Meu nome é Haruno Sakura e eu gosto de... bem, a pessoa que gosto é... hum, devo dizer um sonho para o futuro? O meu hobbie é... e o que eu não gosto? Naruto!"
---
"Naruto idiota!"
Familiares
Pai: Desconhecido
Mãe: Desconhecida
Avô: Desconhecido
Avó: Desconhecida
Irmãos: Não tem
Tios: Desconhecidos
Primos: Desconhecidos
Filhos: Não tem
Netos: Não tem
Biografia
Sakura e Ino, uma Amizade entre Rivais
História
Saga Original
Graduação
====Teste de Sobrevivência no País das ondas===eles foram pro pais das ondas proteger o constrotor da ponte condo o zabusa aparece e os enpede zabuza e um demonio da nevoa oculta.zabusa luta com kakaschi.sakura protege o construtor da ponte.sasuke luta com raku.raku e um dos seguedores de zabusa!
Retorno de Uchiha e Procura por Tsunade
Adeus Sasuke
Fillers
6ª Temporada
7ª Temporada
8ª Temporada
9ª Temporada
Shippuden
Técnicas
Técnica dos Clones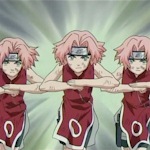 Nome Original:

分身の術

Nível: Rank E - Suplementar
Primeira Aparição: "O Desabrochar de Sakura! Mostre a sua Determinação!"
Informações:
Técnica da Palma Mística

Nome Original:

掌仙術

Nível: Rank A - Suplementar - Curto Alcance (0-5 metros)
Primeira Aparição:
Informações:
Técnica da Nevasca de Sakura
Nome Original:

桜吹雪の術 ou さくら吹雪の術

Nível: Desconhecido
Primeira Aparição: "Naruto: O Filme"
Informações:
---
Equipes
---
---
Time Kakashi
---
---
Ad blocker interference detected!
Wikia is a free-to-use site that makes money from advertising. We have a modified experience for viewers using ad blockers

Wikia is not accessible if you've made further modifications. Remove the custom ad blocker rule(s) and the page will load as expected.