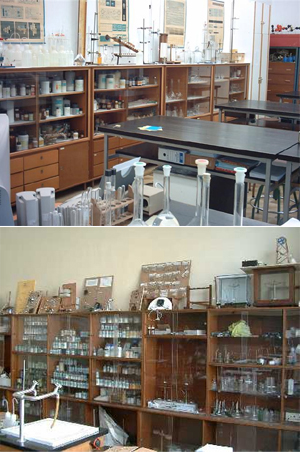 ---
Maioria dos alunos estão acostumado com suas salas de aula de Poções, sendo escuras, nos porões das escolas. Mas na Noskort, as aulas de Alquimia é feito num laboratório moderno, arejado e com todo o material necessário. Os alunos sentam nas cinco bancadas, com pias e prestam atenção no professor que fica diante de um balcão próprio.
Em volta da sala existem vários armários, mas ali estão só uma parte, os que são mais usados em aula. Um grande depósito na Ala Leste tem todo um gigantesco acervo de todos os tipos de ingredientes, caldeirões, vidraçaria necessária para qualquer poção, seja o mais comum ou aquelas que são até proibidas. O acesso a tal acervo é permitido apenas ao professor de Alquimia.
Página Inicial | Estrutura | Classes de Aula

Ad blocker interference detected!
Wikia is a free-to-use site that makes money from advertising. We have a modified experience for viewers using ad blockers

Wikia is not accessible if you've made further modifications. Remove the custom ad blocker rule(s) and the page will load as expected.