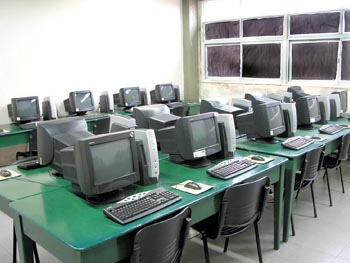 ---
As aulas de Introdução à cultura trouxa é feito em um laboratório, com longas mesas e cadeiras, que acolhem até 50 pessoas. Dependendo da aula, sobre a mesa pode ser encontrado o que os alunos irão estudar, desde patos de borracha, até o complexo computador (foto). Há também um grande depósito, que são encontrados todos os tipos de objetos trouxas, e um pequeno local para os objetos com defeito serem jogados fora. Armários para os alunos colocarem as suas experiências cobrem toda uma parede (alguns estão pretos por explosões), e um pequeno quadro branco para os professores escreverem fica ao lado das mesas.
Página Inicial | Estrutura | Classes de Aula

Ad blocker interference detected!
Wikia is a free-to-use site that makes money from advertising. We have a modified experience for viewers using ad blockers

Wikia is not accessible if you've made further modifications. Remove the custom ad blocker rule(s) and the page will load as expected.