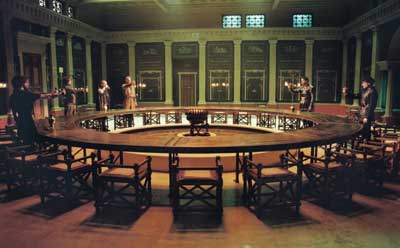 ---
Uma grande mesa redonda, onde o professor e aluno são iguais. Neste belo salão decorado com colunas de mármore, tem a távola redonda e um braseiro no centro, onde aquece os alunos nos dias mais frios. Na sala de sociologia longos debates acontecem, discussões animadas, e esta é a idéia da classe. Não existe a relação de mestre e pupilo, e sim, irmãos onde podem conversar e trocar idéias.
A mesa suporta trinta alunos, embora, quando necessário novas cadeiras são trazidas mas fica um pouco mais apertado. E magicamente na frente de cada aluno aparece o nome dele escrito na mesa, e quando o aluno fala o nome brilha, assim todos sabem o nome daquele que está discursando.
Página Inicial | Estrutura | Classes de Aula

Ad blocker interference detected!
Wikia is a free-to-use site that makes money from advertising. We have a modified experience for viewers using ad blockers

Wikia is not accessible if you've made further modifications. Remove the custom ad blocker rule(s) and the page will load as expected.