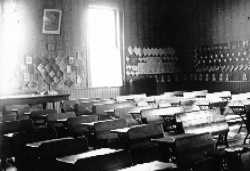 ---
A sala de Tenebrologia é uma sala histórica, ela não é mexida desde do século XVI, e tem todas as características dela da época. Alguns alunos dizem que ela é assombrada, por vários alunos que morreram no aprendizado de maldições, mas é lógico que não se passa de boatos.
Ela tem em suas paredes, várias anotações e pergaminhos pregados, todos os alunos que descobrem sobre uma forma de enganar um bruxo das trevas, o nome de alguma praga nova, ou seja, a sala toda é um grande mural de conhecimentos. Não é raro, encontrar algum aluno que passe horas e horas ali atrás de novos aprendizados.
Página Inicial | Estrutura | Classes de Aula

Ad blocker interference detected!
Wikia is a free-to-use site that makes money from advertising. We have a modified experience for viewers using ad blockers

Wikia is not accessible if you've made further modifications. Remove the custom ad blocker rule(s) and the page will load as expected.