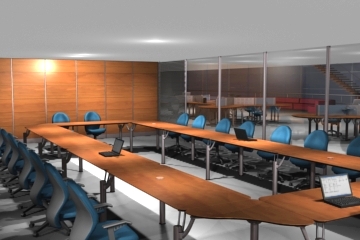 ---
A sala do professores faz parte da área moderna da universidade, que foi necessária reformar após o incêndio de 1922. Paredes de vidro e paredes de plástico é como está composto todo o segundo andar da Ala Leste.
É neste recinto que os professores se encontram para conversar sobre os alunos, comer, ou relaxar depois de uma aula. A entrada de alunos não é permitida sem autorização.
Assim como tem acesso à toda área residencial dos professores no terceiro andar, cada um tendo uma suíte própria. Além de um pequeno salão comunal.
Página Inicial | Estrutura

Ad blocker interference detected!
Wikia is a free-to-use site that makes money from advertising. We have a modified experience for viewers using ad blockers

Wikia is not accessible if you've made further modifications. Remove the custom ad blocker rule(s) and the page will load as expected.