Salamence
(Salame)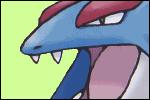 Desempenho
Lutas Oficiais
7
Vitórias
4
Derrotas
3
Aproveitamento
~60%
Associado(a) à:
Os Jassintos

Salamence é um dos membros do Blast Battle. Lutou em três edições do torneio. Formou com Machoke a dupla "Os Jassitos" do Blast Battle Tag!.
História
Pré Blast Battle e vida pessoal
Salamence é um dos primeiros membros do Orkut Fake Pokémon. Também foi Salamence um dos primeiros amigos de Pedro Meowth. Salamence ganhou fama após participar do Reality show de Pedro Meowth "Big Brother Pokémon". Lá conheceu outra lutadora do torneio: Joyce Entei. Após deixar o Reality Show, passou um bom tempo longe do orkut, e só voltou mais tarde, no fim do Blast Battle II. Formou com vários outros membros da comunidade a fanfic Invasão Miltank, que na época ganhou um pequeno destaque.
Blast Battle III
Como lutador, Salamence demonstrou ter talento. Começou ganhando por WO de Infernape. O primeiro desafio de sua carreira foi na segunda fase, onde enfrentou Machoke. Ambos eram novatos, e fizeram uma ótima luta. Salamence conquistou a vitória sobre Machoke, e depois conseguiu uma das maiores fassanhas de sua carreitra na terceira fase: vnceu o campeão da primeira edição e terceiro lugar na segunda edição: Hitmontop, se garatindo na fase semi-final. Na semi final, foi derrotado por Charizard Pink após uma ótima luta. Disputou o terceiro lugar do torneio com Shiny Eipam, mas perdeu, e ficou com o quarto lugar. Salamence foi um dos novatos de maior destaque do Blast Battle. O Blast Battle III, foi sem duvidas a melhor de suas campanhas.
Blast Battle Tag!
Salamence fez uma pequena participação no torneio em duplas de Pedro Meowth. Formou dupla com seu amigo, e primeiro adversário em lutas oficiais do Blast Battle: Machoke. O nome da dupla era "Os Jassitos". Lutaram na primeira fase contra a dupla-casal Macumba's Power de Hitmontop e Charizard Pink. Perderam a luta e sairam do torneio.
Blast Battle IV
Salamence se inscreveu otimista para o Blast Battle IV, após a frustrada participação no Blast Battle Tag!. Sua primeira luta foi considerada facil, contra o novato Lickilicky. Salamence venceu a luta, e na segunda fase enfrentou um de seus maiores amigos no Blast Battle: Pingu. Após uma luta difícil, com muitas polêmicas, Salamence perdeu, e acabou encarando de uma maneira ruim o resultado. Contestou o modo de julgamento de Mr. Briney, e ficou um tempo sem aparecer na comunidade. Sua campanha não foi muito boa, e ele deixou o torneio na segunda fase. Apesar de não ter ingressado no Blast Battle V, até hoje participa da comunidade.
Estilo de Luta
Por ter entrado no torneio quando a grande referencia a respeito de um bom lutador era para Hitmontop, Salamence acabou sendo fortemente influenciado por seu modo de luta. Após sua primeira luta, também notou-se influência de Machoke. Com a criação da divertida e cômica Invasão Miltank e a convivência com outros membros, Salamence acabou formando com Pingu, Mudkip e Machoke uma maneira parecida de lutar, que dura até hoje com algumas modificações.
Habilidades
Rodapé
Ad blocker interference detected!
Wikia is a free-to-use site that makes money from advertising. We have a modified experience for viewers using ad blockers

Wikia is not accessible if you've made further modifications. Remove the custom ad blocker rule(s) and the page will load as expected.