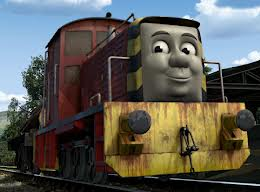 Salty
is a crimson dockyard diesel who works at Brendam.
Appearances
Major Appearances
Season 6
"Salty's Secret"
"No Sleep for Cranky"
"Gordon Takes a Tumble"
Season 7
"Salty's Stormy Tale"
"Peace and Quiet"
Season 8
"Thomas to the Rescue"
"James Goes Too Far"
"Percy and the Magic Carpet"
"Thomas and the Circus"
"Fish"
Season 9
Season 10
"Toby's Afternoon Off"
"Thomas and the Treasure"
Season 11
"Thomas Sets Sail"
"Don't be Silly, Billy"
Season 12
Season 14
Season 15
Specails
Calling All Engines (does not speak)
Misty Island Rescue
Day of the Diesels
Tale of the Brave
Cameos
Season 6
Season 7
"Bill, Ben and Fergus"
"What's the Matter with Henry?"
"James and the Queen of Sodor"
"The Spotless Record"
"Harold and the Flying Horse"
"Best Dressed Engine"
"Not So Hasty Puddings"
Season 8
"Squeak, Rattle and Roll"
"Percy's New Whistle"
"Edward the Great"
Season 9
"Thomas and the Rainbow"
"Thomas and the Birthday Picnic"
Season 10
Season 11
Season 14
Season 15
"Gordon and Ferdinand"
"Edward the Hero"
Voices
Persona
Salty is easy-going, friendly and very practical. He also enjoys telling stories revolving around the sea and fantasy. His seafaring ways and accent are sometimes ridiculed by the other engines, but his usefulness almost always helps the others overlook that. He can work with trucks like no other engine; this is due to his enjoyment of working to a musical rhythm like the trucks and it may also be due to his vast collection of sea shanties. He loves the sea so much that he pines for it when he is away from it for long periods of time.
Trivia
He gained a permanent lamp. Season 19: His cap brim became longer again.
His Take Along and early Take-n-Play model had a red running plate and bufferbeam.
He has an Pirate Attitute that he Says his owns Catchphrases "Ahoy Mateys" (in TV Series) or "Let's Sail Now" (in T,J&H Series).
He In one of Takua, Jaller & Hahli Productions's Series, is one of the Main Antagonists, who appears in Shawn's Nightmare.
Theme
Salty's theme is his song with the Same Name, from Season 7.
Theme (T,J&H Version)
Salty's T,J&H theme is his Season 6 theme
Counterparts (Thomas version) (Hero Version)
Counterparts (Villain/Takua, Jeller & Hahli Productions Version)
Gallery