Samael
Samael
Herkunft
Himmelsreich
Rasse
Dämon
Geburtsdatum
?
Alter
?
Familie
Frau: Lilith


Adoptivsohn: Sariel

Haarfarbe
weiß
Augenfarbe
schwarz
Größe
175cm
Gewicht
60kg
Waffe
Alcard Speer
Techniken
?
Geschichte
Der Fall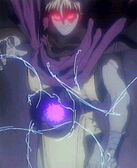 Zusammen mit
Sephiroth
war er der erste
Engel
der gefallen ist, bei ihm war es der Grund, weil er sich weigerte dieses neue Leben, der
Menschen
, zu akzeptieren und vor allem weigerte er sich zu akzeptieren, dass sie auf
Gaia
leben durften.
Beginn der Unterwelt
Nach seinem Fall errichtete er zusammen mit Sephiroth einen Teil der Unterwelt und sie waren die Geisel der Menschheit.
Auch in der Hölle tobte ein ständiger Krieg zwischen diesen beiden und dem alten Herrscher Fortinbraz.
Lucifers Einmischung
Dies änderte sich nachdem Lucifers Rebellion im Himmel begann und er mit vielen Gefallenen zur Unterwelt kam und dort zuerst Fortinbraz besiegte.
Samael und Sephiroth fühlten sich durch Lucifers Armeen in ihrer Macht bedroht und gingen in den Krieg mit ihnen, doch nachdem Samael sah, wie mächtig Lucifer war, verrit er seinen Partner und schloss mit Lucifer einen Friedenspakt, mit welchem er seinen Teil der Unterwelt behalten durfte.
Einpflanzung des Hybrids
Was Samael allerdings nicht bemerkte war, dass man ihm nach dem Sieg, in einem Augenblick seiner Erschöpfung eine Hybriden einpflanzte, dessen Charakterzüge zwar Samael glichen, jedoch nicht exakt, da der Hybrid immer noch Charakterzüge enthielt von Lucifers letzter Inkarnation, dessen Vater. Jedoch erwacht der Hybrid immer nur auf der Erde. Man wollte damit das Risiko vermeiden, dass Samael einfach tötet.
Charakter
Samael ist in seinen Handlungen durch und durch böse und will die Menschheit auch heute noch am liebsten ausrotten, doch fehlt ihm die Macht dazu. Seine Kraft ist zwar der von Lucifer ebenbürtig, doch hat er nicht so viele starke Anhänger wie Lucifer. Er lebt nur noch für das Ziel die Menschheit auszurotten und will ebenfalls die Unterwelt erweitern, jedoch nur um überall sein Reich errichten zu können.
Sein Charakter ansich ist provozierend, ansonsten ruhig und überlegt, allerdings ziemlich brutal. Auch ist sein Verhalten ziemlich kühl. Dies änderte sich nach der Hybrid Verpflanzung etwas, denn seine Boshaftigkeit erhält zusätzlich noch wesentliche Charakterzüge von dem Vater von Lucifers letzter Inkarnation.
Im aktuellen Fall (Hayate) bedeutet dies, er ist ein sehr von sich selbst überzeugtes Grossmaul geworden und die vorherige Kühle und Bedachtheit ist weg.
Kampfstil
Northern Fist, Shotokan
Ad blocker interference detected!
Wikia is a free-to-use site that makes money from advertising. We have a modified experience for viewers using ad blockers

Wikia is not accessible if you've made further modifications. Remove the custom ad blocker rule(s) and the page will load as expected.