Samantha "Sammy" or "Samey", the twin sister of Amy, is kind-hearted, Polite, Sweet, Nice and friendly. She is abused by her mean-spirited, Horrible, Immature, Bossy and Rude sister Amy. She is voiced by Bryn McAuley.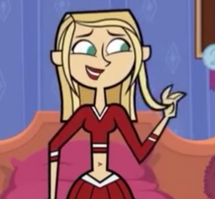 Counterparts (Female Version)
Clarabel (Thomas & Friends)
Selma Bouvier (The Simpsons) (Samey and Selma Bouvier both their names begins with an "S".)
Cinderella or Anastasia Tremaine (Cinderella)
Alice (Alice in Wonderland)
Wendy Darling (Peter Pan)
Susan Test (Johnny Test)
Henry's Mum (Horrid Henry)
Fluttershy or Coco Pommel (My Little Pony)
Lilo (Lilo and Stitch)
Kim Possible (Kim Possible)
Anna (Frozen (2013))
Rapunzel (Tangled)
Hannah Phillips (Toy Story)
Adeleine (Kirby)
Minnie Mouse (Disney)
Tinker Bell (Disney Fairies) (Samey and Tinkerbell both have blonde hair.)
Sadness (Inside Out)
Sarah (Fireman Sam)
Henrietta Von Marzipan (Codename: Kids Next Door)
Dorothy the Dinosuar (The Wiggles)
Carrie White (Carrie)
Sailor Moon (Sailor Moon) (Samey and Sailor Moon are beautiful, kind-hearted, friendly, and polite.)
Lapis Lazuli or Pearl (Steven Universe)
Cheer Bear or Gentle Heart Lamb (The Care Bears Family)
Dotty Dog or Portia Porcupine (The Get Along Gang)
Pretty Bit Popple (Popples)
Butterbear (The Wuzzles)
Hollie Wildwood (Sylvanian Families)
Hello Kitty or My Melody (Hello Kitty's Furry Tale Theater)
Laura Koala, Betty Koala, or Mimi Rabbit (Adventures of the Little Koala)
Patty Rabbit, Suzie Squirrel, or Roxie Raccoon (Maple Town)
Holly (The Wild Puffalumps)
Victoria (Jingaroo)
Emma (The Ridonculous Race)
Permafrost (Static Shock)
Flaky (Happy Tree Friends) (Samey and Flaky both wear red and are shy.)
Dora (Dora the Explorer)
Mrs. Polina Polie (Rolie Polie Olie)
Counterparts (Male Version)
Ben (Thomas & Friends)
Sea Rogue (TUGS)
Lucien Cramp (The Cramp Twins)
Mowgli (The Jungle Book)
Timothy Q. Mouse (Dumbo)
Edd/Double D (Ed, Edd, n Eddy)
Hiro Hamada (Big Hero 6)
Brer Rabbit (Song of the South)
King Richard (Robin Hood)
Dipper Pines (Gravity Falls)
Rizzo the Rat (The Muppets) 
Frizard (The Wuzzles)
Alejandro (Total Drama)
Ad blocker interference detected!
Wikia is a free-to-use site that makes money from advertising. We have a modified experience for viewers using ad blockers

Wikia is not accessible if you've made further modifications. Remove the custom ad blocker rule(s) and the page will load as expected.