back to NextG Handsets
---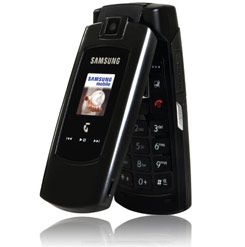 Specifications
RRP $649
Telstra™ NEXT G Network Capable / HSDPA (3G): Video Calling/Messaging/Streaming
Display Dual Screens Internal 2.3" QVGA screen with 262,144 colours and external 1.0" screen with 65,000 colours.
Stereo MP3 Player with Dual Speakers
Download emails and view attachments in a variety of format (including MS Office and PDF) using the embedded Document Viewer, and print wirelessly via Bluetooth.
2 Megapixel + VGA Cameras
External Antenna Conection No
Video Recording with Sound – up to 60 Minutes Video*
Memory 24 MB Internal Memory & External MicroSD Slot (up to 2GB)
High Speed Broadband Internet Connection – up to 1.8 Mbps Download Speed
Stereo Bluetooth Stereo Bluetooth
Links
---
---
Comments
" The best of the Telstra NextG phones is the Samsung A701. UMTS 850MHz 2MP MicorSD Stereo Bluetooth You can get 12 foxtel channels for $12 a month. I thought it would tage ages to buffer but it only took about 10 secs and then streamed perfectly. All the other NextG features are pretty cool there's one similar to MySpace. The BigPond music is awesome too, any mp3's you download on the phone are free to download from your pc the next time you log in on your pc as well. The others are pretty good as well but not as good as the A701." [1]
"I have a A701 (soon to be replaced with a Motorola) and a mate has a A501 and although they often show the same number of bars the 501 does appear to "hold on" to its signal better particularly in marginal areas. He was able to make a call standing next me when I tried to dial it showed no service and couldn't make a call." [2]
Ad blocker interference detected!
Wikia is a free-to-use site that makes money from advertising. We have a modified experience for viewers using ad blockers

Wikia is not accessible if you've made further modifications. Remove the custom ad blocker rule(s) and the page will load as expected.