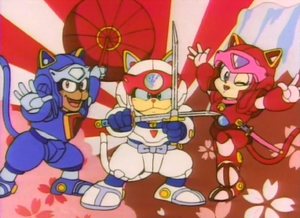 Samurai Pizza Cats (Known as Kyatto Ninden Teyandee in Japan) is an Japanese anime series produced by Tatsunoko Productions and Sotsu Agency. The series originally aired in Japan on TV Tokyo from February 1, 1990 to February 12, 1991, for a total of 54 episodes. The series was dubbed in English by American company Saban in 1991.
Characters

Main article:
Samurai Pizza Cats/Characters/Gallery
Parodies (Do not delete, but you can add)
Ad blocker interference detected!
Wikia is a free-to-use site that makes money from advertising. We have a modified experience for viewers using ad blockers

Wikia is not accessible if you've made further modifications. Remove the custom ad blocker rule(s) and the page will load as expected.