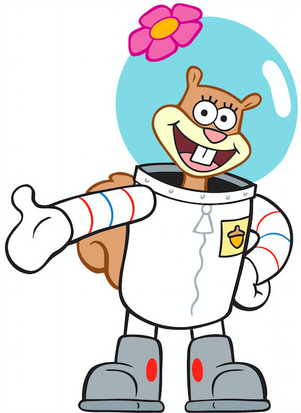 Sandy Cheeks
is a character from
Spongebob Squarepants
. She is voiced by
Carolyn Lawrence
.
Bio
Species: Anthropomorphic Squirrel
Fur Color: Brown
Clothing: White Diving Suit, Pink Flower
Friends: SpongeBob (boyfriend), Patrick, Squidward, Mr. Krabs
Enemies: Plankton, Master Udon
Counterparts 

 WARNING: You may add appropriate counterparts. But, do NOT delete any.
Amy Rose, Princess Sally Acorn, Bunnie Rabbot, Cream the Rabbit, Cosmo the Seedrian, Rouge the Bat, Blaze the Cat, or Marine the Raccoon (Sonic the Hedgehog)
Penelope Pitstop (Wacky Races/The Perils of Penelope Pitstop)
Penelope or Lanolin (Garfield and Friends)
Sarah Hall-Small or Pam-I-Am (The Wubbulous World of Dr. Seuss, Sandy and Sarah both have names starting with 'S')
Francine Frensky or Muffy Crosswire (Arthur, Sandy and Muffy both have names ending with 'y')
Patricia "Patti" Mayonnaise (Doug)
Sam Manson (Danny Phantom)
Cindy Vortex (Jimmy Neutron)
Abby (Cubix: Robots For Everyone)
Soo (The Sooty Show)
Wendy Testaburger or Bebe Stevens (South Park)
Yo (Fanboy and Chum Chum)
Dexter's Mom or Dee-Dee (Dexter's Laboratory)
Princess Fiona or Dragon (Shrek)
Gloria or Gia (Madagascar)
Tillie (Casey Jr. and Friends)
Smurfette (The Smurfs)
Maya the Bee (Maya the Bee/Movie, both are boyfriend to SpongeBob and Willy)
Brooke (Ice Age)
Arlene (The Garfield Show)
Toadette or Emily Coleman (SML)
Gallery
Ad blocker interference detected!
Wikia is a free-to-use site that makes money from advertising. We have a modified experience for viewers using ad blockers

Wikia is not accessible if you've made further modifications. Remove the custom ad blocker rule(s) and the page will load as expected.