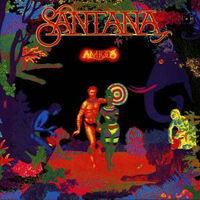 Артист       Santana
 Название     Amigos
 Тип          альбом
 Выпущен      1976
 Жанр         латин рок, джаз-рок, 
              соул, поп-рок
 Длительность 41:17
 Лейбл        Columbia, CBS
 Страна       США

треклист
 A1. Dance Sister Dance (Baila Mi Hermana)(David Rubinson, Ndugu Leon Chancler, Tom Coster) - 8:16
 A2. Take Me With You (Ndugu Leon Chancler, Tom Coster) - 5:26
 A3. Let Me (Devadip Carlos Santana, Tom Coster) - 4:50
 	
 B1. Gitano (Armando Peraza) - 6:13
 B2. Tell Me Are You Tired (Ndugu Leon Chancler, Tom Coster) - 5:42	
 B3. Europa (Earth's Cry Heaven's Smile)(Devadip Carlos Santana, Tom Coster) - 5:06	
 B4. Let It Shine (David Brown, Ray Gardner) - 5:44

состав
 Devadip Carlos Santana - все гитары, бэк-вокал, перкуссия, конго, гуиро 
 Tom Coster - акустическое фортепиано, Электропиано Electric Piano, орган Hammond, синтезаторы 
 Moog, Arp Pro-Soloist, Arp Odyssey, Arp String Essemble, Hohner Clavinet D6, бэк-вокал 
 Ndugu Leon - ударные, timbales, рото-томы Remo, перкуссия, конго, бэк-вокал
 Armando Periaza - конго, бонги, бэк-вокал, вокал "Gitano"
 David Brown - бас
 Greg Walker - солист-вокалист
 Maxine Wilard, Julia Tillman Waters, Ivory Stone - бэк-вокал

выходные данные
 Produced By David Robinson & Friends, Inc. 
 In Association With Devadip Carlos Santana, Tom Cluster And Ndugu Leon. 

 Recorded At Wally Heider Recording Studios, San Francisco. 
 Assistant Engineer: Susie Foot 
 Mastering Engineers: George Horn And Phil Brown

издания
Ad blocker interference detected!
Wikia is a free-to-use site that makes money from advertising. We have a modified experience for viewers using ad blockers

Wikia is not accessible if you've made further modifications. Remove the custom ad blocker rule(s) and the page will load as expected.