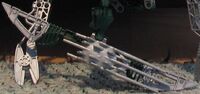 Sapeli kynnet ovat mutatoitunut versio
Miekkasauvasta
. Kun
Henkka
muuttui mutaatioksi, niin muuttui Miekkasauvakin. Siitä tuli Sapeli kynnet, jotka ovat kiinni Henkan oikeassa kädessä. Niissä on piikkejä siellä täällä ja terävät veitset kummassakin päässä. Mitään erikoisvoimia niillä ei ole, mutta niillä voi tehokkaasti tarttua esineisiin, ja ne ovat terävät.
Ad blocker interference detected!
Wikia is a free-to-use site that makes money from advertising. We have a modified experience for viewers using ad blockers

Wikia is not accessible if you've made further modifications. Remove the custom ad blocker rule(s) and the page will load as expected.