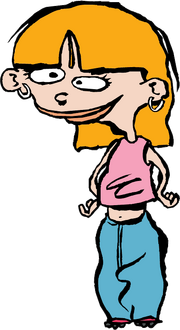 Sarah is a character from Ed, Edd, n Eddy. She is Ed's bossy, psychotic, spoiled, short-tempered younger sister, who acts cute and charming only when it serves her.
Counterparts (Girl Version)
Rosie (Thomas and Friends/The Railway Series) 
Lisa Simpson (The Simpsons)
Meg Griffin (Family Guy)
Shelly Marsh (South Park)
Mindy (SpongeBob SquarePants)
Suzy Johnson or Candace Flynn (Phineas and Ferb) 
Vicky (The Fairly OddParents)
Beautiful Gorgeous (Jimmy Neutron)
Marsha (Fanboy and Chum Chum)
Angelica Pickles (Rugrats/All Grown Up)
Lucy Van Pelt (The Peanuts)
Counterparts (Boy Version)
Ad blocker interference detected!
Wikia is a free-to-use site that makes money from advertising. We have a modified experience for viewers using ad blockers

Wikia is not accessible if you've made further modifications. Remove the custom ad blocker rule(s) and the page will load as expected.