Toatapio Nuva perusti Sarjakuva maahan sarjakuva studion heti muutettuaan Sarjakuva maahan Pirakoiden Hyökkäys seikkailun jälkeen. Studio sijaitsi osoitteessa Kahu street 3 ja se oli Bz-Metrussa.
Henkka asui aluksi Sarjakuva maassa Bz-Metrussa, mutta hänet karkotettiin, joten hän muutti Bio-Maahan.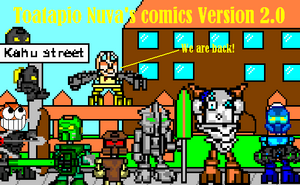 Ad blocker interference detected!
Wikia is a free-to-use site that makes money from advertising. We have a modified experience for viewers using ad blockers

Wikia is not accessible if you've made further modifications. Remove the custom ad blocker rule(s) and the page will load as expected.