Ad blocker interference detected!
Wikia is a free-to-use site that makes money from advertising. We have a modified experience for viewers using ad blockers

Wikia is not accessible if you've made further modifications. Remove the custom ad blocker rule(s) and the page will load as expected.
Sasuke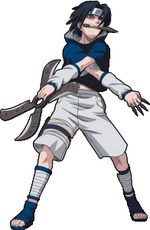 Sasuke Uchiha por Masashi Kishimoto
| | |
| --- | --- |
| Nome | Uchiha Sasuke |
| - | うちはサスケ |
Fisiologia

| | |
| --- | --- |
| Altura | 153cm |
| Peso | 43kg |
| Cabelos | Negros |
| Olhos | Negros |
Dados
Idade
part I: 12 - 13anos

part II: 15anos

Data de Nascimento
23 de Julho
Sexo
Masculino
Nível
Nukenin
País de Origem
País do Fogo(Konoha)

País do Arroz(Som)

Tipo Sanguíneo
AB
Registro Ninja
012607
Ama...
Nada
Odeia...
Muita coisa
Primeira Aparição
Episódio 1:

"Uzumaki Naruto Chegando!"

Mangá 3:

"Uchiha Sasuke"

Dublador
JAP: Noriaki Sugiyama

USA: Yuri Lowenthal

BR: Robson Kumode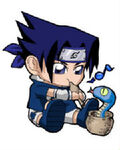 Sasuke Uchiha (Japonês:うちはサスケ) é uma das personagens principais do anime e mangá japonês, Naruto e Naruto:Shippuden
Sasuke é o nome do lendário samurai, Sarutobi Sasuke, um guerreiro imortalizado na cultura japonesa pelos contos infantis.
Uchiha também falado Uchiwa, significa leque de papel, que é o símbolo do clã. Uchiwas são usados para aumentar as chamas, deixando-as mais quentes, o que é referente ao fato do clã Uchiha usar jutsus do elemento fogo.
Falas Lembradas:
---
"Você está bem, gatinho medroso?"
---
"Uchiha Sasuke, há poucas coisas que eu gosto e muitas que eu não gosto. Meu sonho, ou melhor dizer ambição, é matar uma certa pessoa."
---
"Idiota!"
Familiares
Pai: Uchiha Fugaku, morto
Mãe: Uchiha Mikoto, morta
Avô: Desconhecido
Avó: Desconhecida
Irmãos: Uchiha Itachi
Tios: Uchiha Teyaki e Uchiha Uruchi, mortos
Primos: Uchoha Forgotten
Filhos: Não tem
Netos: Não tem
Biografia
vingador irmao,uchiha itachi,morto
As Honras de Uchiha
Sharingan
História
Saga Original
Graduação
Teste de Sobrevivência e País das Ondas
Exame Chuunin e Invasão de Konoha
sasuke volta para a aldeia da folha por proucuraa de tsunade para propor um acordo ele ficava na aldeia da folha mas com uma condiçao ele nao podia ser preso tsunade fala para sasuke que se ele ficasse na aldeia da folha ele tinha que prestar serviços a aldeia e ele aceita dai o sasuke vira o lider dos anbu depois ele vai proucurar por sakura e fala todos os seus sentimentos por ela e os dois viram namorados depois ele proucura por naruto e explica por que ele saiu da aldeia da folha
Adeus Sasuke emo vai tarde
Fillers
6ª Temporada
7ª Temporada
8ª Temporada
9ª Temporada
Shippuden
Bando de filha da puta
Técnicas
Elemento Fogo: Técnica da Grande Bola de Fogo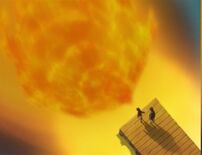 Nome Original:

火遁・豪火球の術

Nível: Rank C - Ofensiva - Curto Alcance (0-5 metros)
Primeira Aparição: "Teste! Treino de Sobrevivência!"
Informações:
Elemento Fogo: Técnica da Fênix de Fogo Imortal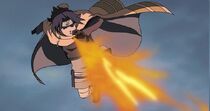 Nome Original:

火遁・鳳仙火の術

Nível: Rank C - Ofensiva - Curto Alcance (0-5 metros)
Primeira Aparição:
Informações:
Combo do Leão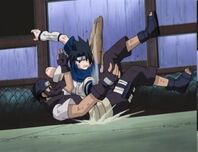 Nome Original:

獅子連弾

Nível: Rank C - Ofensiva - Curto Alcance (0-5 metros)
Primeira Aparição: "A Inveja do Sobrancelhudo! O Combo do Leão Nasce!"
Informações:
Chidori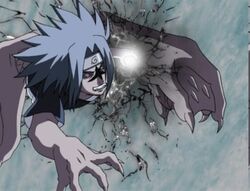 Nome Original:

千鳥

Nível: Rank A - Ofensiva - Curto Alcance (0-5 metros)
Primeira Aparição: "Eu não me Atrasaria por Nada. Técnica Secreta mais Forte - Chidori é Formado!"
Informações:
Nagashi Chidori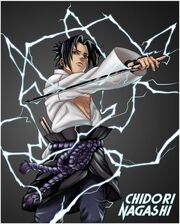 Nome Original:

千鳥流し

Nível: Desconhecido
Primeira Aparição:
Informações:
---
Equipes
Counterparts