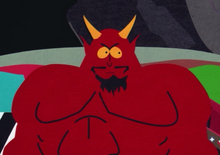 Satan is a current a Villain/Hero from South Park.
Counterparts
Diesel 10 (Thomas)
Johnny cuba (TUGS)
M bison,Akuma or Seth (Street Fighter)
Bowser or Smithy (Mario)
Rugal Bernstein or Orochi (King of fighter)
Shredder (teenage ninja mutant turtle)
Dennis (Spongebob Squearpants)
Dr Eggman or Proffesor gelard Robotnik (sonic)
Heihachi mishima or Ogre (Tekken)
Uka Uka (Crash Bandicoot)
Ad blocker interference detected!
Wikia is a free-to-use site that makes money from advertising. We have a modified experience for viewers using ad blockers

Wikia is not accessible if you've made further modifications. Remove the custom ad blocker rule(s) and the page will load as expected.