ScamperRockz
A LIST OF MOVIES/TV SHOWS/VIDEOGAMES I HAVE SO FAR: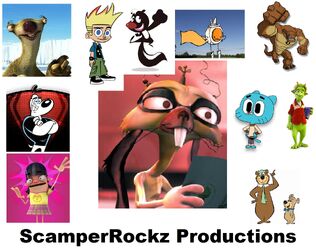 101 Dalmatians
6Teen
9 (Film)
A Bug's Life
A.T.O.M. Alpha Teens On Machines
Adventure Time
Aladdin
Aladdin 2: The Return of Jafar
Aladdin 3: Aladdin and the King of Thieves
Alice in Wonderland
Alienators: Evolution Continues
Aliens in the Attic
All Grown Up!
Archie's Weird Mysteries
Arthur Christmas
A.T.O.M. Alpha Teens On Machines
Atom Ant
Bambi
Bee Movie
Ben 10
Ben 10: Alien Force
Ben 10: Ultimate Alien
Bin Weevils
Bolt
Brother Bear
Brother Bear 2
Bump in the Night
Buzzy the Crow (Shorts)
Cars
Cars 2
Cloudy with a Chance of Meatballs (2009)
Class of 3000
Class of the Titans
Codename: Kids Next Door
Courage the Cowardly Dog
Defenders of the Earth
Despicable Me
Digimon
Dinosaur
Dinosaur King
Dinosaur Train
Disney Shorts
Dr. Slump
The Fairly Oddparents
Fanboy and Chum Chum
Foster's Home for Imaginary Friends
Generator Rex
Gerald McBoing-Boing (TV series)
Hello Kitty
Hero 108
Hey There, It's Yogi Bear!
Horrid Henry
How to Train Your Dragon
Hi Hi Puffy AmiYumi
Hokey Wolf
Hop (2011)
Huckleberry Hound
Ice Age
Ice Age 2: The Meltdown
Ice Age 3: Dawn of the Dinosaurs
Iggy Arbuckle
Igor
Jimmy Neutron: Boy Genius (2001)
John Carter (2012)
Johnny Test
Kong: the Animated Series
Kung Fu Panda
Kung Fu Panda 2
Lady and the Tramp
Lady and the Tramp 2: Scamp's Adventures
Lilo and Stitch
Lilo and Stitch 2
Looney Tunes
MAD (2010)
Madagascar
Madagascar: Escape 2 Africa
Mama Loves the Poyopoyo-Saurus
Martin Mystery
Megamind
MegaMind: The Button of Doom
Megas XLR
Monsters vs Aliens
Monsters Inc.
Mummies Alive!
Mummy Nanny
My Little Pony: Friendship is Magic
Mulan
Open Season
Open Season 2
Open Season 3
Out of Jimmy's Head
Over the Hedge
Ozzy and Drix
Peppa Pig
Peter Pan
Pet Alien
Phineas and Ferb
Phineas and Ferb: Across the 2nd Dimension
Pixie & Dixie and Mr. Jinks
Planet 51
Pokemon
Prince of Persia: The Sands of Time (2010)
Professor Layton and the Eternal Diva
Quick Draw McGraw
Rango
Ratz
Regular Show
Rio (2011)
Roboroach
Robots (2005)
Rock-A-Doodle
Rocko's Modern Life
Rugrats
Samurai Jack
Shark Tale
Shaun the Sheep
Shrek
Skunk Fu
Space Chimps
Space Chimps 2
SpongeBob SquarePants
Teen Titans
The Avengers: Earth's Mightiest Heroes
The Amazing World of Gumball
The Little Mole (1956)
The Simpsons
The Snorks
The Super Hero Squad Show
The Sword in the Stone
Totally Spies!
Toy Story
Toy Story 2
Toy Story 3
Up (2009)
T.U.F.F. Puppy
WALL-E
Wolverine and the X-Men
X-Men
X-Men Evolution
Yam Roll
Yin, Yang, Yo
Yogi Bear

A LIST OF PARODIES:

MY FAVORITE CHARACTER:
Scamper (Igor)
Princess Bubblegum (Adventure Time) (Scamper's Girlfriend)
Yo (Fanboy and Chum Chum)
Lem (Planet 51)
Humungousaur (Ben 10 Alien Force and Ultimate Alien)
Captain America (The Avengers: Earth's Mightiest Heroes)
Wolverine and Rouge (X-Men Evolution)
Gumball (The Amazing World of Gumball)
Mr. Bumpy (Bump in the Night)
Java the Caveman (Martin Mystery)
Blu (Rio)
Johnny Test
Timmy Turner
WALL-E
The Missing Link (Monsters vs Aliens)
Ham III (Space Chimps)
Dudley Puppy (T.U.F.F. Puppy)
John Carter
Ad blocker interference detected!
Wikia is a free-to-use site that makes money from advertising. We have a modified experience for viewers using ad blockers

Wikia is not accessible if you've made further modifications. Remove the custom ad blocker rule(s) and the page will load as expected.