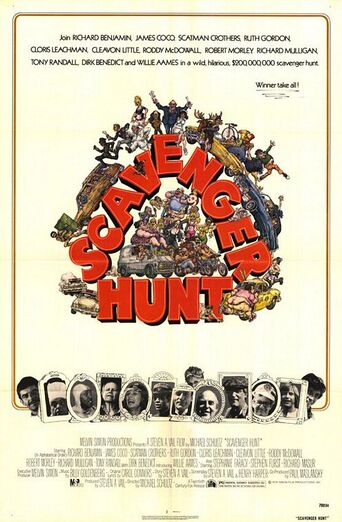 Scavenger Hunt
is a 1979 Madcap Farcical Slapstick Chase Caper Comedy Film with one of the largest
Esemble Cast
, in the tradition of the 1963 Comedy,
It's a Mad, Mad, Mad, Mad World
, the
Keystone Kops
,
The Three Stooges
,
Laurel and Hardy
,
Abbott and Costello
,
The Marx Brothers
, the 1976 Farce
No Deposit, No Return
and the Screwball Comedies of the 1930s.
Plot
Milton Parker (Vincent Price), an eccentric game inventor, playwright and poet, packs his bags for his leave to Venice, Italy and writes invitations to everybody he knows. At his anniversary, Parker's greedy and estranged relatives and all of his friends show up at the harbour.
The twenty teams consist of:
Parker's son-in law Henry Motley (Tony Randall), Parker's daughter and Henry's wife, Dorothy (Imogene Coca) and their 4 ill-behaved children.
Parker's godson, Melvin Saletta (Gene Wilder)
Melville Crump (Sid Caesar) and his wife, Monica (Edie Adams)
Cast
Production
Animated Title Sequence
Home Media
Ad blocker interference detected!
Wikia is a free-to-use site that makes money from advertising. We have a modified experience for viewers using ad blockers

Wikia is not accessible if you've made further modifications. Remove the custom ad blocker rule(s) and the page will load as expected.