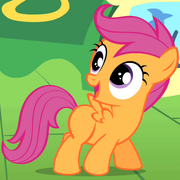 Scootaloo
is a character on
My Little Pony: Friendship is Magic
. She is voiced by
Madeleine Peters
.
Counterparts (Girl Version)
Clarabel or Henrietta - Thomas the Tank Engine & Friends
Sally Seaplane or Pearl - TUGS
Buttercup (The Powerpuff Girls)
Kessie or Darby (Winnie the Pooh)
Buttercup (Pound Puppies)
Prairie Dusty Trails (Lalaloopsy)
Counterparts (Boy Version)
Sunshine or Grampus or Puffa (TUGS)
Sonic, Tails or Charmy (Sonic the Hedgehog)
Dexter (Winnie the Pooh)
Patches (Pound Puppies)
Gorilla Infant or Frazetti (Kong: The Animated Series)
Little Kid ( The Peanuts Movie)
Stan Marsh or Kyle Brovloski (South Park)
Parodies
Gallery
Ad blocker interference detected!
Wikia is a free-to-use site that makes money from advertising. We have a modified experience for viewers using ad blockers

Wikia is not accessible if you've made further modifications. Remove the custom ad blocker rule(s) and the page will load as expected.