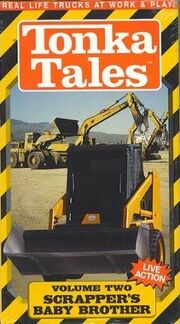 Scrapper (a dump truck) is excited today -- it's his birthday! He can't wait to get to the recycling yard to help the big trucks work. But when Scrapper arrives, no one remembers his birthday. Then he finds out his job for the day is to babysit Baby Brother (a small front loader) and that is no easy task because Baby Brother is constantly getting the way of the big trucks. Then Scrapper loses track of Baby Brother! Scrapper frantically searches the yard, wishing he didn't have a brother at all. That is until he finally finds his brother, who was putting together a surprise birthday party for him, complete with a special gift! As all of the trucks join in the celebration, Scrapper understands the importance of being responsible for his brother.
Ad blocker interference detected!
Wikia is a free-to-use site that makes money from advertising. We have a modified experience for viewers using ad blockers

Wikia is not accessible if you've made further modifications. Remove the custom ad blocker rule(s) and the page will load as expected.