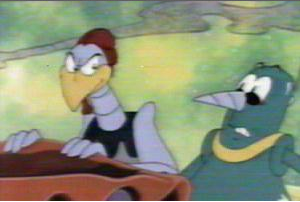 Scratch and Grounder
are two robots built by
Dr. Ivo Robotnik
in
Adventures of Sonic the Hedgehog
. Scratch is a tall, rooster-like robot, and Grounder is a short, green-swiss army knife-style robot with drills for arms.
Trivia
Scratch and Grounder are both based on enemies from Sonic the Hedgehog 2 for the Sega Genesis/Mega Drive. Scratch is based on the Clucker enemy from Wing Fortress Zone, and Grounder is based on the enemy of the same name from Aquatic Ruin Zone, but with a green color scheme instead of red.
Bio
Shows
Archie
Archie Sonic the Hedgehog - Issue #3
Archie Sonic the Hedgehog - Issue #51
They also appeared in the Fleetway comic as mindless drones.
Counterparts (Sonic Version) (Villain Version) (Do not delete, but you can add)
Jim and Jock (Theodore Tugboat)
Zilly and Klunk (Dastardly and Muttley)
Little Lincoln and Moose (Foster's Home for Imaginary Friends)
Papes and Ronk (The Legendary Starfy)
Two of the Possum Kids (Bone)
Paper Jam Boy and Stapler Head (Pearls Before Swine)
Agent Sharp and Agent Keen (South Park)
Rapscallion #2 and Rapscallion #3 (Veggietales)
Ekans and Koffing or Pichu Bros. (Pokemon)
Harry and Marv (Home Alone)
Evil George and Evil Harold (Captain Underpants)
Larry Fine and Curly Howard (The Three Stooges)
Mad Dog and Dump Truck (Talespin)
LordKnightmon and Dynasmon (Digimon)
Rumble and Frenzy (Transformers G1)
Gushar and Guildo (Transformers: Car Robots)
Eggplant Wizard and King Hippo (Captain N: The Game Master)
Centaur and Jumbo (Monkeybone)
Greedo and Ponda Baba (Star Wars)
SwaySway and Buhdecue (Breadwinners)
Kamacuras and Kumonga (Godzilla)
The Wasps (Maya the Bee, both are minions to Dr. Robotnik and Stinger)
Joe and Jake (Song of the South)
Bloom and Thunder-Karlsson (Pippi Longstocking)
Counterparts (Hero Version)
Counterparts (SEGA/Dr. Robotnik's Mean Bean Machine Version)
Counterparts (Animaniacs Version)
The Evil Workers - Shining Time Station
The Bully Bros. - The Perils of Penelope Pitstop
Bitch Stewie and Bitch Brian - Family Guy
Todd McNulty & Ty McNulty - Rugrats
Haunter and Gengar - Pokemon
The Brickhouse Brothers - Horrid Henry
Vladimir Trunkov and Tubbs Pacers - Cars 2
Unnamed Destiny Gang Members -  Adventure Time 
Wat Tambor and San Hill - Star Wars
Jasper and Horace - 101 Dalmatians
Owl and Bat - T.U.F.F. Puppy
Sergeant Mlt. and Sergeant Hop - Golden Axe
Krizalid and K'9999 (The King of Fighters)
Minyah and Rodan - Godzilla
Gallery