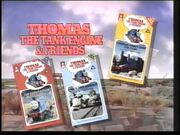 A list of VHS tapes released by Screen Legends in 1987.
1001 - Thomas the Tank Engine: Thomas, Percy and the Coal
1002 - Thomas the Tank Engine: Percy and Harold
1003 - Thomas the Tank Engine: The Deputation
1004 - Henry's Cat: The Magic Tummy Button
1007 - Paddington's 1st Anywhen TV Show
1008 - Paddington's 2nd Anywhen TV Show
1009 - Paddington's 3rd and 4th Anywhen TV Shows
2051 - Worzel Gummidge 1: Worzel's Washing Day/A Home Fit for Scarecrows
2052 - Worzel Gummidge 2: Aunt Sally/The Crowman
Ad blocker interference detected!
Wikia is a free-to-use site that makes money from advertising. We have a modified experience for viewers using ad blockers

Wikia is not accessible if you've made further modifications. Remove the custom ad blocker rule(s) and the page will load as expected.