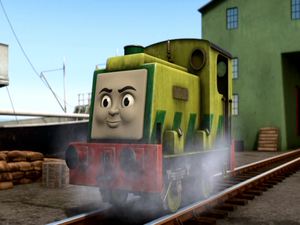 Scruff "the Scruncher"
is a lime green boxy steam engine who works with
Whiff
at the Waste Dump.
Basis
Scruff is based on No. 9369 "Musketeer", a Sentinal 100 HP "BE Type" chain-driven vertical-boiler industrial strength steam locomotive built in 1946 with a number 52.
Appearances
Major Appearances
Season 14
Season 16
Thomas and the Rubbish Train (does not speak)
Season 17
Specials:
Cameos
Season 15
Kevin the Steamie
Up Up and Away!
Season 16
Race to the Rescue
Express Coming Through
Flash Bang Wallop!
Percy and the Calliope
Specials
Voice Actors
Theme
Scruff's theme is Warrior's theme from TUGS, which he shares with Whiff.
Counterparts
Parodies
Gallery
Ad blocker interference detected!
Wikia is a free-to-use site that makes money from advertising. We have a modified experience for viewers using ad blockers

Wikia is not accessible if you've made further modifications. Remove the custom ad blocker rule(s) and the page will load as expected.