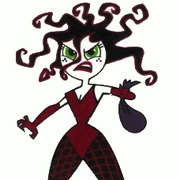 Sedusa is a villain in The Powerpuff Girls.
Counterparts (female)
Rita Repulsa (Mighty Morphin' Power Rangers)
Queen Machina (Power Rangers Zeo)
Astronema (Power Rangers in Space)
Trakeena (Power Rangers Lost Galaxy)
Witch Haggar (Voltron)
Vicky (The Fairly OddParents)
Heather, Jo, Scarlett, or Josee (Total Drama)
Cree Lincoln (Codename: Kids Next Door)
Bulma, Pan, Maron or Launch (Dragon Ball)
Princess Jasmine (Aladdin) (Both Sedusa and Jasmine are Beautiful, Attractive Raven-Haired Ladies)
Counterparts (male)
Alejandro or Jacques (Total Drama)
Prince Diamond (Sailor Moon)
Robbie Valentino (Gravity Falls)
Ad blocker interference detected!
Wikia is a free-to-use site that makes money from advertising. We have a modified experience for viewers using ad blockers

Wikia is not accessible if you've made further modifications. Remove the custom ad blocker rule(s) and the page will load as expected.