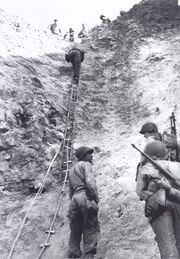 A primeira sessão da campanha, entitulada
Pointe du Hoc
, foi realizada no dia 7 de janeiro de 2008 no
Bóia's RPG Club
. Estavam presentes os jogadores Bóia, Hélio, Malukks, Thormy e ainda uma participação especial do Thiago.
A Missão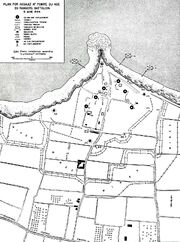 O grupo era parte do 2º Batalhão de Rangers do Exército Americano. Seu objetivo no Dia D era a captura e a destruição de canhões de atilharia franceses capturados pelos nazistas posicionados em Pointe du Hoc que estava apontados para as praias de Omaha e Utah. Entre os objetivos específicos do esqudrão, liderado pelo então Tentente Joe Jack Smith, estavam:
Capturar quaisquer documentos nazistas no bunker de comando durante a invasão de Pointe du Hoc;
Auxiliar a destruição dos canhões voltados para as praias de Omaha e Utah;
Encontrar o contato da Resistência Francesa.
Resultado
Todos os objetivos da missão foram cumpridos com apenas uma baixa no esquarão, o soldado Alan Brado.
Ad blocker interference detected!
Wikia is a free-to-use site that makes money from advertising. We have a modified experience for viewers using ad blockers

Wikia is not accessible if you've made further modifications. Remove the custom ad blocker rule(s) and the page will load as expected.