The current Crimson Shadow chronicle is set in the fictitious city of San Andreas, California using the map from the Grand Theft Auto:San Andreas game.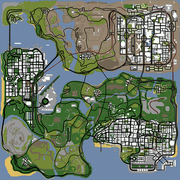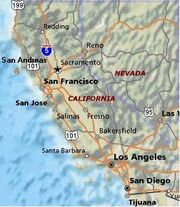 The area is divided up into three different cities, much like the GTA game. The names and relative styles of these areas have been changed, however.
The entire set of islands is San Andreas county, supported by a single county government. While that government was able to generate sufficient funds once, and exert significant influence on the area, the development of the major "towns," Hightown, and Industrial Town in addition to Oldtown, has significantly eroded the power and capability of the county over the last century.
The Northern island contains Hightown. The Southern island comprises Oldtown in the East and the Industrial Town in the West.
The San Andreas Metropolitan area contains approximately a million souls. Of which 500,000 are crammed into Oldtown, 250,000 live in Hightown, and 150,000 have settled in various places within Industrial town. the remaining 100,000 are spread between the various smaller towns and other localities in the islands.
The areas covered by services from a given major city, such as police and fire protection, are listed under that city. The various suburb towns each have their own services, including fire and police, though they often contract with neighboring cities and the county to help with water, electricity, and waste disposal issues- but are listed together as San Andreas Suburbs. Other areas may not have such capabilities, relying on the limited services of the county if they enjoy them at all.
History
History of San Andreas. All dates on the timeline should be (more) accurate and discrepancies in the "settings" pages should be corrected.
Major Cities
Hightown
With a population of 250,000 Hightown sits on the northern island in San Andreas. Home and playground to the wealthy, Hightown is the jewel of the islands and the area most visitors associate with San An.
Oldtown
Built first, starting as the San Andreas mission and growing into the City of San Andreas, Oldtown is where the oldest families have their roots and the highest crime rates destroy generations. Some 500,000 people live in Oldtown, making it the most populous and crowded area in San An.
Industrial Town
Intended to be simply an unincorporated industrial area, Industrial Town has had its share of immigrants from Oldtown. Initially workers who lacked the means for fare on the public transportation or overworked managers whose offices became apartments, most of those remaining live over the edge of poverty. While 150,000 people is small compared to its neighboring towns, these people live in egg-crate apartments or spaces never intended as apartments.
Areas Outside the Main Cities
Small Towns
The Small Towns and Suburbs around San Andreas can be found here.
Other Locations of Note
Maps