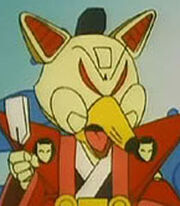 Seymour Cheese (Known as Kitsunezuka Ko'on-no-Kami in the original Japanese dub) (aka The Big Cheese) is the main antagonist from the anime Samurai Pizza Cats (AKA Kyattou Ninden Teyandee in Japan).
He was voiced by Dean Hagopian in English Dub.
Counterparts

 WARNING: You may add appropriate counterparts. But, do NOT delete any.
Ad blocker interference detected!
Wikia is a free-to-use site that makes money from advertising. We have a modified experience for viewers using ad blockers

Wikia is not accessible if you've made further modifications. Remove the custom ad blocker rule(s) and the page will load as expected.