This page is part of the Alternate Marvel mini wiki.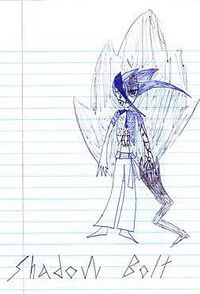 Real Name: Rabindo Sabur
Age: 18
Alias: Shadow Bolt
Power: Can shoot out bolts of shadow energy that can either turn a good person evil or seriously harm them.
Main Article
Rabindo Sabur was born in Cairo, Egypt. His parents, who feared him for his pale skin, abandoned him. An old story teller called En Sabah Nur took him and cared for him.
The Powers of Eternity
When Rabindo was 10 he used his powers to open the Gateway to Eternity. It was then that Nur revealed his true identity to Rabindo. En Sabah Nur was actually Apocolypse! Nur showed Rabindo his true lot-in-life, Rabindo was meant to rule the world! By using the Gateway to Eternity, Rabindo's powers were increased to incredible levels. He then made the ultimate sacrifice. He took the rite of Rad'nur'oik. By killing a friend and giving up his humanity Rabindo would become a God! Nur was pleased to see this happen to Rabindo, even if it was the last thing he'd ever see!
The Markings of a Warrior
With new powers and knowledge Rabindo engraved the Markings of Eternity upon his body. He then set forth to shape the world as he saw fit. Unfortunately for him there were still three things standing in his way: Odin, the Phoenix and Galactus.
Ad blocker interference detected!
Wikia is a free-to-use site that makes money from advertising. We have a modified experience for viewers using ad blockers

Wikia is not accessible if you've made further modifications. Remove the custom ad blocker rule(s) and the page will load as expected.