Sonic Tells Shadow Goodnight.
Shadow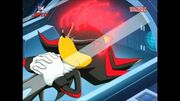 Sonic
Kirby
Tiff
Tuff
Sonic:Okay Shadow! Do You Want To Fall Back?
Shadow:Okay Sonic!
Sonic:Here I Go! 1,2,3!
Shadow:(Falls Back) (Shadow Is Asleep) (Yawns Tiredly) (Talks Dreamily) Maria! I Love You! (Snoring And Whistles)
Sonic:Well Shadow! Let's Put Shadow In The Bed! (Sonic Picks Up Shadow And Put On A Bed A Blanket Covers Shadow) Goodnight Shadow! (Kisses Shadow) (Closes The Door)
Shadow:(Snoring And Whistles)
Kirby:Look How Cute!
Tiff:Yeah He's So Sleepy!
Tuff:I Hope So!
Tiff And Tuff:Let's Go To The Downtown Disney!
Kirby:Yay!
Ad blocker interference detected!
Wikia is a free-to-use site that makes money from advertising. We have a modified experience for viewers using ad blockers

Wikia is not accessible if you've made further modifications. Remove the custom ad blocker rule(s) and the page will load as expected.