Shao Kahn is a big bad from the Mortal Kombat series. He is a one of the main antagonists along with Shang Tsung, Quan Chi and Shinnok.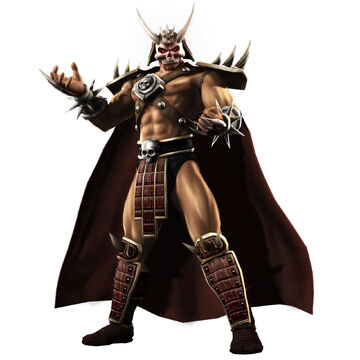 Counterparts
Diesel 10 or Spencer (Thomas the Tank Engine and Friends)
Johnny Cuba (TUGS)
Cabot (Theodore Tugboat)
Smithy or Bowser (Mario)
Professor Gerald Robotink, Black Doom, Dr. Robotink, SaTam Robotink, or Dr. Finitevus(Sonic)
Rude Ralph (Horrid Henry)
Lord Zedd or Master Org (Power Rangers)
Machinedramon (Digimon)
Seth or M.Bison (Street Fighter)
Ganondorf (The Legend of Zelda)
Lumine (Mega Man X)
Principal Lamar Bone (Doug)
Ch'rell (Teenage Mutant Ninja Turtles)
Emperor Zurg or Lots-o' Huggin Bear (Toy Story)
Sheldon J. Plankton or Dennis (Spongebob squearpants)
Heihachi mishima,jinpachi mishima or Ogre (tekken)
Rugal bernstein (king of fighter)
Mr. Keebler (GoAnimate)
Ad blocker interference detected!
Wikia is a free-to-use site that makes money from advertising. We have a modified experience for viewers using ad blockers

Wikia is not accessible if you've made further modifications. Remove the custom ad blocker rule(s) and the page will load as expected.