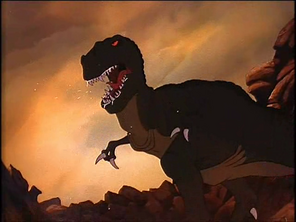 The
Sharptooth
is a male Tyrannosaurus who is the main antagonist in The first Land Before Time film.
Counterparts
Diesel 10 or The Chinese Dragon (Thomas the Tank Engine and Friends)
Johnny Cuba or Smelter (TUGS)
Cabot (Theodore Tugboat) Smithy or Bowser (Super Mario Bros.)
Professor Gerald Robotnik or Dr. Eggman (Sonic the Hedgehog)
The Wolf or Robo-Pig (Garfield and Friends) Dr. Gene Splicer (Tiny Toon Adventures) Vlad Vladikoff (Dr. Seuss) Mr. Nerdon or Rude Ralph (Horrid Henry) Dennis (SpongeBob SquarePants) Reptar (Rugrats)
Snake Jailbird, Mr. Burns or Sideshow Bob (The Simpsons)
Death (Family Guy)
Clevetron (The Cleveland Show)
Satan or Scott Tenorman (South Park)
Gutt (Ice Age)
Evil the Cat (Earthworm Jim)
Robot Santa (Futurama)
The Extremasaurus (Foster's Home for Imaginary Friends)
Global Warmer (Fanboy & Chum Chum)
Father (Codename: Kids Next Door)
Greed/Father (Fullmetal Alchemist)
Korax (Hexen, both are complete monsters)
Lumine (Mega Man X)
Cycloid Emperor (Duke Nukem, both are large and strong)
Ad blocker interference detected!
Wikia is a free-to-use site that makes money from advertising. We have a modified experience for viewers using ad blockers

Wikia is not accessible if you've made further modifications. Remove the custom ad blocker rule(s) and the page will load as expected.