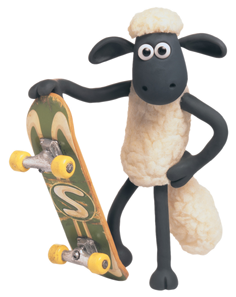 Shaun is the main protagonist of the 2007 Aardman series of the same name.
Counterparts (Wallace and Gromit Version)
Counterparts (Shaun the Sheep Version)
Tommy (Rugrats)
Peter, Chris, or Brian (Family Guy)
Pikachu (Pokemon)
Fix-It Felix Jr. (Wreck-It Ralph)
Kermit the Frog (The Muppets)
Marlin (Finding Nemo)
Dusty Crophopper (Planes)
Gallery
Ad blocker interference detected!
Wikia is a free-to-use site that makes money from advertising. We have a modified experience for viewers using ad blockers

Wikia is not accessible if you've made further modifications. Remove the custom ad blocker rule(s) and the page will load as expected.