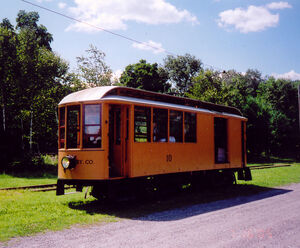 The Shelburne Falls Trolley Museum is a small railroad museum in Shelburne Falls, Massachusetts, United States.

The museum (SFTM) is dedicated to preserving and operating car number 10 of the former Shelburne Falls and Colrain Street Railway. This is a combination passenger-baggage trolley car built by the Wason Manufacturing Company of Springfield, Massachusetts, in 1896 and is the last known trolley car from the Shelburne Falls & Colrain Street Railway.

In 1992 Marshall Johnson donated car number 10 (which his father had bought and saved when the Shelburne Falls & Colrain Street Railway shut down, decades earlier!) to a small group of people who restored the car back to working order.

The museum also has a small assortment of equipment that is not related to the Shelburne Falls & Colrain Street Railway like an ex-Central Vermont caboose, a Central Vermont handcar, and other railroad and trolley equipment.

The Shelburne Falls Trolley Museum is located in the old Buckland Freight yard.
---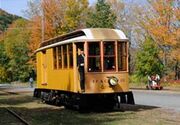 Trolley
The star of our museum is the fully-restored 1896 Shelburne Falls and Colrain Street Railway trolley No. 10. On your visit, you can ride the trolley from the museum to the Salmon Falls showroom and back. Listen to an interpretive talk about the trolley and local history on your ride. Watch the motorman operate the trolley and switch the pole to reverse the trolley's direction. You can even become a motorman for day! Read more about the trolley here.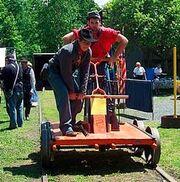 Pump Car
Watch or participate in an old-fashioned pump car ride! Older children can ride if accompanied by an adult. Our authentic Central Vermont Railway pump car likely dates from the early 1900s. Pump cars pre-date the motorized speeders or track cars used for track maintenance and inspection by railroad workers. Both of these methods were supplanted by hy-rail vehicles—regular road vehicles equipped with retractable flanged wheels.
Caboose
During special events, you can take a ride on the former Central Vermont Railway caboose as it is pushed by a trackmobile, owned and operated by one of our members. During regularly scheduled operating hours, you can explore the caboose as a static exhibit.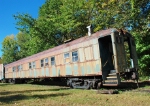 Passenger car
We have a 1937 Osgood-Bradley American Flyer passenger coach (formerly owned by Bangor and Aroostook as car 230) on site that is currently used for storage. Volunteers are needed to help restore this car.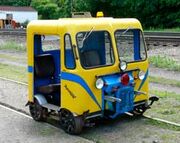 Motor cars
The museum owns a two-cycle Fairmont motor car, or speeder, that is in the process of being restored. Volunteers with motor-car knowledge and/or mechanical skills are needed to help with this project.
You can ride in an operating motor car, owned and operated by one of our members, during museum special events.
Museum Visitor's Center
In our Visitor's Center, you can purchase tickets and museum souvenirs. You can view our displays of the Shelburne Falls and Colrain Street Railway or play with toy trains in Kid's Corner. We also sell hardbound copies of the 1967-68 Transporation Bulletin of the Connecticut Valley Chapter of the National Railway Historical Society, No. 75, which is filled with historical information about the Shelburne Falls and Colrain Street Railway.
Museum Grounds
Present
Our museum occupies the former Boston and Maine Railroad freight yard, adjacent to the active Pan Am Southern Railroad line on the south side of Shelburne Falls. Our buildings include a carbarn that houses the No. 10, the original Boston and Maine freight house, and the museum visitor's center. Rental space is available in the visitor's center and the freight house.
Future plans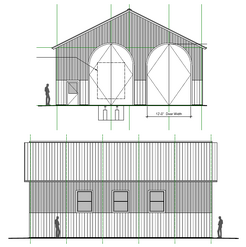 Car Barn
No. 10 needs a new home! The museum plans to build a new fire-resistant 2000 square-foot carbarn that would house the No. 10, our Central Vermont caboose, and any future equipment. This building is necessary to protect our equipment and to allow for restoration and maintenance. The plans include space for future expansion of the carbarn and track extension, which would connect the existing trolley track in a loop behind the carbarn with the track next to the freight house. The architectural plans were made possible by architect Chris Farley at Austin Design, Inc.
To date, we have raised $11,000 towards this project. If you would like to donate funds to this project, please write "Carbarn Fund" on your check and send it to us.
---
Collection
Future Additionals
Ad blocker interference detected!
Wikia is a free-to-use site that makes money from advertising. We have a modified experience for viewers using ad blockers

Wikia is not accessible if you've made further modifications. Remove the custom ad blocker rule(s) and the page will load as expected.