Shizue Hiraoka, 1900

Cargo
Reitora
Sexo
Feminino
Cor do Cabelo
Negros
Cor dos Olhos
Negros
Fraternidade
Não foi aluna
Marido
Natsume Hiraoka
Nome Completo: Shizue Hiraoka
Nascimento: 09 de dezembro de 1838
Local de Nascimento: Okinawa, Japão.

Biografia:
Filha de um dos últimos senhores de xogum bruxos do Japão, o Shinobu. A única filha entre nove filhos. Seu pai não dizia nunca, mas sua pequena filha, que chamava de "bolinho de arroz" era sua preferida, e a mimou como podia.Ela foi uma garota travessa, que sempre aprontava e foi expulsa do Colégio de Magia Garan Tsuki por desobediência. Assim seu pai achou que ela precisava impor postura, e por isso à casou a força com seu melhor soldado, o bruxo sangue-ruim Natsume Hiraoka
Após anos brigando um com outro, Shizue e Natsume descobriram que se amavam. E por coincidência na mesma época são chamados para trabalharem como professores na Noskort. Shizue que era animaga, um segredo que sempre guardou quando vivia no Japão, transformava-se num enorme tigre branco, por isso tornou-se professora de Metamorfagia.
Anos depois assumiu como reitora de Noskort. Fundou a On-na shiro (Castelo da Mulher), um pequeno clube feminino que durou até 1922. O clube era um grande motivador, durante uma época da história bruxa na qual a idéia da bruxa como dona de casa estava transformando. Foi graça ao On-na shiro que um preconceito comum na qual dizia que as mulheres só iam para Noskort para conseguir um bom marido foi erradicado.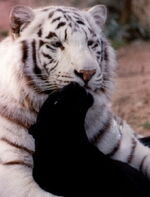 Shizue teve uma filha, Motoko que cresceu dentro do campus da universidade e tornaria-se a professora mais famosa de Metamorfagia da história da Noskort (ela podia transformar numa linda pantera negra). Motoko foi professora até 1954, quando se aposentou, e dizem que ela vive numa pequena casa não muito longe da universidade até sua morte em 1992. Boatos de um fantasma de uma pantera negra é bem presente entre os alunos.
O quadro de Shizue está num corredor na ala norte ao lado da sua filha, no entanto, ambas normalmente podem ser vistas no mesmo quadro conversando, Motoko no colo da mãe, ou apenas dormindo, tanto na forma humana quanto em suas formas animagas.
Página Inicial | Reitores

Ad blocker interference detected!
Wikia is a free-to-use site that makes money from advertising. We have a modified experience for viewers using ad blockers

Wikia is not accessible if you've made further modifications. Remove the custom ad blocker rule(s) and the page will load as expected.