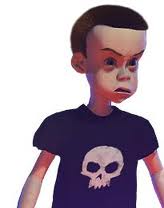 Sid Phillips is the villain of Toy Story, Pixar's first feature and the first wholly computer-animated film, is Sid, the boy next door. This boy spends his days destroying and disfiguring toys, even his sister's most treasured dolls.
The toys only have to worry about their creative/destructive neighbor until Andy's family makes their upcoming move to a different part of town. But these last few days are particularly dangerous for Buzz and Woody when they find themselves in the terror zone that is Sid's room.
Counterparts
Parodies
Ad blocker interference detected!
Wikia is a free-to-use site that makes money from advertising. We have a modified experience for viewers using ad blockers

Wikia is not accessible if you've made further modifications. Remove the custom ad blocker rule(s) and the page will load as expected.