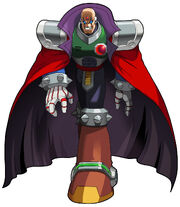 Sigma is a main antagonist in Mega Man X series.
Friends: Bowser, Adolf Hitler (Downfall), Dr. Eggman
Counterparts
Devious Diesel or Diesel 10 (Thomas the Tank Engine and Friends)
Zorran or Johnny Cuba (TUGS)
Oliver or Cabot (Theodore Tugboat)
Dr. Robotnik or Satam Robotink (Sonic)
Bowser or Smithy (Mario)
Mr. Charles Burns, Sideshow Bob or Snake Jailbird (The Simpsons)
Ello Gov'nor (Regular Show)
Scott Tenorman (South Park)
The Pizza Man or IMustDestroyAll (Angry Grandpa)
Lan Di (Shenmue)
Jafar (Aladdin)
Shredder (Teenage Mutant Ninja Turtles)
King Ghidorah (Godzilla)
Mundus (Devil May Cry)
The Beautiful Day Monster (Sesame Street)
Sheldon j plankton,Dennis or Tattle strangler (Spongebob squearpants)
Ad blocker interference detected!
Wikia is a free-to-use site that makes money from advertising. We have a modified experience for viewers using ad blockers

Wikia is not accessible if you've made further modifications. Remove the custom ad blocker rule(s) and the page will load as expected.