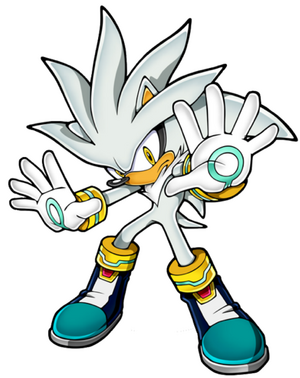 Silver the Hedgehog
is a character from the
Sonic the Hedgehog
video game series. He exists in the future along with
Blaze the Cat
 (Sonic 06 only) and uses telekenesis as his primary methods of both travelling and attack.
Bio (Do not delete)
Species: Anthropomorphic Hedgehog
Fur Color: Silver
Age: 14
Friends: Sonic the Hedgehog, Miles "Tails" Prower, Knuckles the Echidna, Amy Rose, Blaze the Cat, Espio the Chamelon, Mephiles the Dark (formerly), Shard, Silvia the Hedgehog-X (Genderbent version),
Enemies: Sonic the Hedgehog (briefly), Dr. Eggman, Eggman Nega
More Coming Soon
Counterparts (Boy Version)

WARNING: Do NOT delete. But, you may add.
Puffa, Hercules, Big Mickey, or Sea Rogue (TUGS)
Slash, Shelburne, or Guysborough (Theodore Tugboat, the formermost is fan-made)
Waluigi, Luigi, Dr. Mario, Metal Mario, Lubba,  Stanley the Bugman, Count Bleck, Roy "Bully" Koopa, or Prince Peasley (Super Mario Bros.)
Bo Sheep or What the Dog (Garfield and Friends)
Jeffy, Chef Pee Pee, Mario, Luigi, or Mr. Steinbeck (SML)
Fowlmouth, Furrball, Sappy Stanley, or Roderick Rat (Tiny Toon Adventures)
Duke, Ralph, Runt, Mr. Plotz, Bobby, Pesto, Dr. Otto Scratchansniff or Buttons (Animaniacs)
Squilliam Fancyson, Larry the Lobster, Squidward Tentacles or King Neptune (SpongeBob SquarePants)
Baljeet Tjinder, Jeremy Johnson, Perry the Platypus,Ferb Fletcher, or Dr. Dimunitive (Phineas and Ferb)
Remy Buxaplenty (The Fairly OddParents)
Frostini (Chuggington)
Finn McMissile (Cars 2)
Patrick Fitzgerald (The Amazing World of Gumball)
Fry (Futurama)
Justin or Tyler (Total Drama)
Trunks (Dragon Ball Z)
Shining Armor, Iron Will, Roid Rage, Photo Finish or either of the Flim Flam brothers (My Little Pony: Friendship is Magic)
Jar-Jar Binks, Mace Windu, or Salacious Crumb (Star Wars)
NeoVamdemon, Yuu, or BlueMeramon (Digimon Xros Wars)
Carter, Tokka, Baxter Stockman, Dogpound, Savanti, Groundchuck, Dirtbag, Overdrive, The Pulverizer, Cody, Granitor, Jammerhead, Terrorpin,  Chote, Mr.Braunze, Michaelangelo, Slash, Bishop, Bonesteel, Stainless Steel Steve or Donatello (Teenage Mutant Ninja Turtles)
Gennai, Andromon, Kuwagamon, SkullGreymon, Demidevimon, or WaruMonzaemon (Digimon)
Mummymon or BlackWarGreymon(Digimon Adventure 02)
Majaramon or Yamaki (Digimon Tamers)
Dynasmon or Panjyamon (Digimon Frontier)
SaberLeomon (Digimon Savers)
Marik (Yu-Gi-Oh)
Devil Jin King Steve or Hwoarang (Tekken)
Mosquitor or Snout Spout (Masters of the Universe)
Alfred (King of Fighters)
Yog-Sogoth (Cthluu)
Smudge or the Fake Tigger (Winnie the Pooh)
Donovan Baine (Darkstalkers)
Nuka or Banzai (The Lion King)
Axel Gear, Mini-Gear, or Sparkster's Brother (fan-made) (Rocket Knight Adventures)
Dietrich (Indiana Jones)
Fidget (The Great Mouse Detective)
Machine Gun Willy (Double Dragon)
Mr.Freeze, Punch, Riddler, or Azarel (Batman)
Lampwick (Pinnochio)
Glombrox (Dark Globox), Clark, or Darkman (Rayman)
Boris (Rocky and Bullwinkle)
Squatt, Frax, or Prince Sprocket (Power Rangers)
Nidhiki, Krakua, or Lesovik (Bionicle)
Blast Zone or Fright Rider (Skylanders)
Bruce, David, or Lenny (Codename:Kids Next Door)
Non or Bizzaro (Superman)
Toxin, Scarlet Spider, Mysterio, J. Jonah Jameson, or Rhino (Spider-Man)
Lying Luke (Horrid Henry, a fan made)
Eclipse (Mega Man X)
Cable (X-Men)
Kyler Jones (Angry Grandpa)
Roy (Papa Louie)
Clifford (The Muppets)
Wesley Crusher (Star Trek)
Edi.E (Final Fight)
Kenshi (Mortal Kombat)
Jet Jaguar, Mothra Leo, Varan, King Cesar, Hokmuto, Baragon, Zilla, Gabara, or Kiryu (Godzilla)
Henry the Ant Colonel (Maya the Bee)
Bodi (Rock Dog)
I'll tell you this for a fact. Silver is not rude!
Counterparts (Girl Version)
Breezie, Blaze the Cat, or Lupe Wolf (Sonic the Hedgehog)
Daisy or Belle (Thomas And Friends)
Jinx (Teen Titans)
Rarity (My Little Pony)
Alisa Bosconovitch (Tekken)
Talia Al Ghul (Batman)
Lotus Blossom or Quarry (Teenage Mutant Ninja Turtles)
Zatanna (DC Universe)
Midge Smoot (Shining Time Station)
Parodies