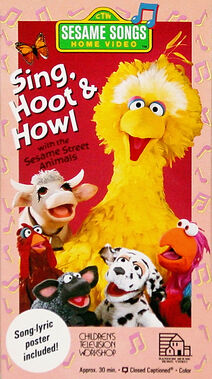 Sing, Hoot & Howl with the Sesame Street Animals
is the fifth volume of Sesame Songs Home Video that was released in 1991. It was the last video in which
Richard Hunt
starred in the framing material before his death. Hosted by Big Bird and several animals. It was also one of the only two Sesame Songs video in which
Frank Oz
was not involved.
Editor's Note: Nobody edits this page, except me (14brunov), so don't add too many songs.
Songs
Cow Dog Song
Baa Baa Bamba
Starfish
The Insects in Your Neighborhood
The Song of the Cebu
I'm an Aardvark
Pig's Love Song
Proud to Be a Cow
We Are All Earthlings
Kids
Chicken or the Egg
Cluck Around the Clock
Old MacDonald Had a Farm
Characters
Linking Footage
Big Bird, Gladys the Cow, Dalmatian, Jackman Wolf, Chicago the Lion, Ducks, Buster the Horse, Chickens, Grasshopper, Fish, Pigs, Black Sheep
Inserts
Luis, Sheep, Gladys the Cow, Chip and Dip, Ducks, Ernie, Larry the Cucumber, Jimmy and Jerry Gourd, Junior Asparagus, Archibald Asparagus, Buster the Horse, Fred the Wonder Horse, Elmo, Poco Loco, Little Bird, Fish, Chicago the Lion, Goat, Frog, Robin, Turtle, Toucan, Big Bird, Little Chrissy and the Alphabeats, and Anything Muppets
Credits
Executive Producer: Dulcy Singer
Producer: Nina Elias-Bamberger
Director: Ted May
Segment Directors: Emily Squires, Jon Stone
Writer: Sonia Manzano
Segment Writers: Sara Compton, Tony Geiss, Jeff Moss, Mike Nawrocki, Luis Santeiro
Story Consultant: Tony Geiss
Muppet Performers: Carroll Spinney as Big Bird, with Jerry Nelson, Richard Hunt, Martin P. Robinson, Kevin Clash, Camille Bonora, Fran Brill, David Rudman, Pam Arciero, Bryant Young, Kathryn Mullen, Rick Lyon, Jim Martin, Noel MacNeal, Joey Mazzarino, Carmen Osbahr, Peter MacKennan, Alison Mork, Brian Muehl, Cheryl Blaylock, Paul Hartis, Mark Zeszotek, Ed Christie, and Jim Henson
Cast Emilio Delgado as Luis
Songs by: Christopher Cerf, Sara Compton, Sarah Durkee, Tony Geiss, Jeff Moss, Mike Nawrocki, Joe Raposo, Luis Santeiro, Fred Wardenberg
Production Designer: Victor DiNapoli
Puppet Captain: Kevin Clash
Production Manager: Sean Murphy
Special Thanks to: Sharon Lerner, Franklin Getchell, Leslie Raicer, and Nina Shelton
Gallery
Ad blocker interference detected!
Wikia is a free-to-use site that makes money from advertising. We have a modified experience for viewers using ad blockers

Wikia is not accessible if you've made further modifications. Remove the custom ad blocker rule(s) and the page will load as expected.