Translation : Ancient church in Mechelen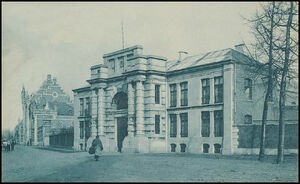 De Sint-Niklaaskerk in Mechelen was gelegen aan het begin van de Liersesteenweg.
Heden ten dage bevindt zich op dit adres de Mechelse gevangenis, die daar werd gebouwd tussen 1871 en 1874.
Geschiedenis
De Sint-Niklaaskerk was gelegen vlakbij de Koepoort, tegen de stadswal aan en behoorde tot de parochie van Sint-Jans. Hierdoor waren er geen parochiale rechten.
Wanneer de kerk werd gebouwd is onzeker, maar in 1395 liet het "Broederschap van Sint-Niklaas" het oude koor afbreken en liet er een ruimer koor bouwen. Dit alles leidde dat de vernieuwe kerk, op 9 juni 1400, werd ingewijd.
Rond de Sint-Niklaaskerk was er een klein kerkhof. Dat gebied wordt – heden ten dage – bezet door Telenet.
Naast de kerk was er een woning, die direct aanleunde bij de kerk, waar de kapelaan woonde die, in de kerk, de erediensten verzorgde. Vlakbij was er ook een retraitehuis voor oudere priesters. Volgens een pentekening van Jan-Baptist de Noter was er aan de Sint-Niklaaskerk een staande wip bevestigd.
Deze gegevens zijn terug te vinden in de geschriften van Bartholomeus Imbrechts die, rond 1522, in de Sint-Niklaaskerk vertoefde.
Tijdens de ontploffing van de Zandpoort in Mechelen in 1546 werd de Sint-Niklaaskerk zwaar beschadigd.
De beeldenstorm in de 16e eeuw betekende het einde van de kerk. In 1578 werd ze gesloopt en nooit meer opnieuw opgebouwd.
Bij de bouw van de Mechelse gevangenis, in de 19e eeuw, werden er skeletresten teruggevonden die afkomstig waren van het kerkhof.
Op een kaart van Georg Braun en Frans Hogenberg, uit de 16e eeuw, stond de Sint-Niklaaskerk vermeld. [1]
Ook de Mechelse deelgemeente Leest bezit een Sint-Niklaaskerk ( Leest-Dorp 1B ).
Beeldbank
Externe links
Voetnoten
Ad blocker interference detected!
Wikia is a free-to-use site that makes money from advertising. We have a modified experience for viewers using ad blockers

Wikia is not accessible if you've made further modifications. Remove the custom ad blocker rule(s) and the page will load as expected.