Ad blocker interference detected!
Wikia is a free-to-use site that makes money from advertising. We have a modified experience for viewers using ad blockers

Wikia is not accessible if you've made further modifications. Remove the custom ad blocker rule(s) and the page will load as expected.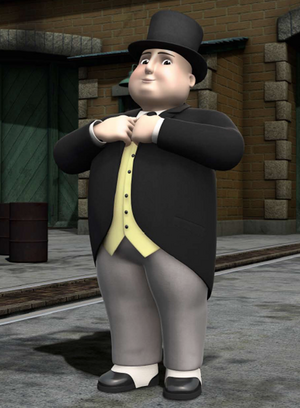 Sir Topham Hatt
, better known as
The Fat Controller
, is the man in charge of the
North Western Railway
on
Sodor
. He is voiced by Keith Wickham in UK, and Kerry Shale in US.
Theme
Sir Topham Hatt's theme is his Season 1/Season 2 theme, which he shares with Lady Hatt.
Counterparts (Male Version)
The Announcer - Wacky Races
Mr. Haney - Arthur; both head of the North Western Railway and Lakewood Elementary School 
King Derwin - Dr. Seuss/The Wubbulous World of Dr. Seuss
Rick - Tom and Jerry
Master Abraham - WarioWare (T,J&H Version)
Randy Carmicheal - Rugrats
Principal Jonathan Wartz - Hey Arnold
Big Gay Al - South Park
The Mayor of Oakhaven - Scooby Doo
Mr. Principal Katswinngo - Waittsize School, both Head of the North Western Railway & Waittsize School
Johnny Erain - SpongeBob SquarePants
Professor Albus Dumbledore - Harry Potter; both head of the North Western Railway and Hogwarts School 
King Charles - Captain N: The Game Master
Friend Owl - Bambi
P.T. Flea - A Bug's Life
Chief - Coilbook
The King - Golden Axe
Buck Strickland - King of the Hill
Nitrome Boss - Nitrome, both are Fat
Chief Herbert Dumbrowski - T.U.F.F. Puppy
The Big Bean - Camp Lazlo
Art Bigotti - VeggieTales
Master Eon - Skylanders
June's Dad - Kablam!
Mr. Slate - The Flintstones
The Schoolmaster - Pingu
Mr. Jeff Pringle - Postman Pat
Professor - Rupert
Papa Louie - Papa Louie,both head of the North Western Railway and Papa's Pizzeria
Raiden - Mortal Kombat
Superintendent Skinner - Recess
Chris the Cricket - Maya the Bee
Stu Hopps - Zootopia (2016)
​

Counterparts (Female Version)
Gallery
Main article: Sir Topham Hatt/Gallery