Sistema Digestivo y su Función en la Nutrición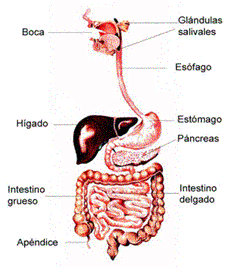 Los Alimentos contienen nutrientes que el cuerpo humano necesita: proteínas, grasas e hidratos de carbono. Sin embargo, las células del organismo no pueden utilizar estos nutrientes en la forma en que se encuentran en la naturaleza, deben sufrir transformaciones al interior del sistema digestivo.
A este proceso de transformación de los alimentos, se denomina digestión. Sólo a través de él, los alimentos pueden pasar a la sangre y llegar a todas las células del organismo.
El aparato digestivo del ser humano, está compuesto por tubo digestivo (lugar por donde pasan los alimentos), y glándulas anexas (salivales, hígado, páncreas), que no forman parte del tubo digestivo, pero fabrican jugos que vierten en él, ayudando a la digestión.
Existen dos tipos de digestión: mecánica y química.
Ad blocker interference detected!
Wikia is a free-to-use site that makes money from advertising. We have a modified experience for viewers using ad blockers

Wikia is not accessible if you've made further modifications. Remove the custom ad blocker rule(s) and the page will load as expected.