Sister Bear 
is a character from
The Berenstain Bears
.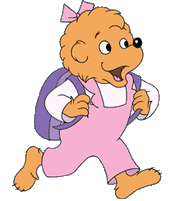 Counterparts
Rosie or Emily (Thomas the Tank Engine and Friends)
Pearl (TUGS)
Birdo or Princess Peach (Super Mario Bros.)
Koko (Chuggington)
Tanya Cupper, Becky, or Kara (Shining Time Station)
Cream the Rabbit, Princess Sally Acorn, Frances, or Sticks the Badger (Sonic the Hedgehog)
Cloe (Garfield and Friends)
Babs Bunny or Fifi La Fume (Tiny Toon Adventures)
Cindy Lou Who (Dr. Seuss)
Dot Warner (Animaniacs)
Toots (Tom and Jerry)
D.W. Read, Kate Read, or Francine Frensky (Arthur)
Laura Carrot (VeggieTales)
Michelle Conrad (3-2-1 Penguins)
Lil (Rugrats)
May or Misty (Pokemon)
Susie Swanson (Family Guy)
Lisa Simpson or Meg Griffin (The Simpsons)
Cho Chang (Harry Potter)
Matilda Wormwood (Matilda)
Ad blocker interference detected!
Wikia is a free-to-use site that makes money from advertising. We have a modified experience for viewers using ad blockers

Wikia is not accessible if you've made further modifications. Remove the custom ad blocker rule(s) and the page will load as expected.