Welcome to the Ski Racing mini wiki at Scratchpad!
You can use the box below to create new pages for this mini-wiki. Make sure you type [[Category:Ski Racing]] on the page before you save it to make it part of the Ski Racing wiki (preload can be enabled to automate this task, by clicking this link and saving that page. Afterwards, you may need to purge this page, if you still see this message).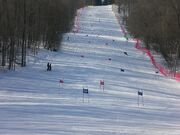 Alpine Ski Racing
Alpine ski racing has a strong history around the world. It's popularity has allowed for the creation of competition at all levels of ability and at all locals.
The most renowned league is the Federation Internationale De Ski, typically referred to as FIS. This professional league hosts the World Cup races where the world's best compete for the World Cup title in individual events and for the overall title of World Cup champion.
In the United States alone there are numerous levels of sanctioned alpine skiing competition. The most competitive is USSA races where competitors of all ages compete individually.
There are also a number of collegiate leagues, with ski racing being a Division I NCAA sport at many colleges. There also exists another sanctioned collegiate league, USCSA, for Division II & III NCAA teams in addition to club ski racing teams.
Many high schools also have ski race teams as a winter sport option. There even exist ski racing academies for high school students who wish to focus more on the sport.
Many individual ski mountains throughout the United States have their own race teams that compete against other local ski resorts. These programs typically start at elementary school age and go through high school.
Skiing Events
Slalom
Giant Slalom
Super-G
Downhill
Ad blocker interference detected!
Wikia is a free-to-use site that makes money from advertising. We have a modified experience for viewers using ad blockers

Wikia is not accessible if you've made further modifications. Remove the custom ad blocker rule(s) and the page will load as expected.