Ad blocker interference detected!
Wikia is a free-to-use site that makes money from advertising. We have a modified experience for viewers using ad blockers

Wikia is not accessible if you've made further modifications. Remove the custom ad blocker rule(s) and the page will load as expected.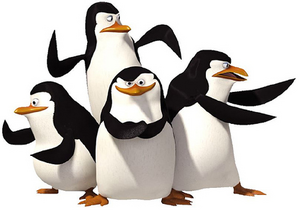 Skipper, Kowalski, Rico, and Private AKA The Penguins of Madagascar
are a group of agent spy military Penguins who are one of the characters in
Madagascar
.
Skipper: Team Leader
Kowalski: Brains (The Scientist)
Rico: Raving psycopath (Demolitions).
Private: The cuddly one (Rookie).
Counterparts
Duncan, Skarloey, Peter Sam, and Rheneas or Thomas, Gordon, James, and Percy (Thomas the Tank Engine and Friends)
Zorran, Zug, Zak, and Zip (Salty's Lighthouse)
Guysborough, Theodore, FoDuck, and Hank (Theodore Tugboat)
Mac/Pockets, Rug Bug Benny/Snoozy, Ring-A-Ding/Dum-Dum and Willy/Zippy (Wacky Races/The Perils of Penelope Pitstop)
The Brain, Squit, Bobby and Pinky or Yakko Warner, Flavio, Mr. Plotz and Wakko Warner (Animaniacs)
Little Cat H, Little Cat A, Little Cat Z, and Little Cat B (Dr. Seuss/The Wubbulous World of Dr. Seuss)
AJ, Elmer, Chester, and Sanjay (The Fairly OddParents)
Bert, Ernie, Cookie Monster, and Elmo (Sesame Street)
Cyborg, Clyde, Saitine, and Zombie (Wreck-It Ralph)
Dopey, Bashful, Happy, and Sneezy (Snow White)
Napoleon Bonafrog, Merdude, Metalhead, and Zach (Teenage Mutant Ninja Turtles)